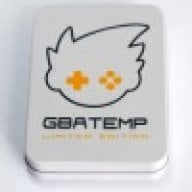 Joined

Dec 1, 2007
Messages

1,453
Trophies

0
Website
XP
Country
Hey guys, searched for around 10 hours, no joke, on the internet and google and am still at a loss. I decided to come to GBATemp so the good ole' gbatempers might be able to help me out. Please, I am very very tired of searching and my eyes are almost bloodshot if you can please help me out. :'(
So I have this unmodded gamecube and was wondering how to burn some brew, particularly emulators on it.
Here's what I have:
mini DVD-R discs. I was told no other kind of DVD disc would work. Only R. Not +RW or -RW.
Nero 8 Trial Edition. I was told this is the best way to burn my .dols for gamecube on to my discs.
.dol files/brew, I got snes9x, media player for gamecube, nes for gamecube, and other emus and goodies.
Gamecube. Duh. >_>
So now I need some help from you guys
PLEASE!
How exactly do I use Nero to burn brew onto my discs and get it so that it works with gamecube? Thank you guys so much in advance. I am sure someone on GBATemp can help me. Please.