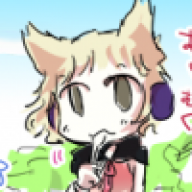 Still a Touhou Fanatic
OP
Member
Introduction
It seems the DS/DSi has finally gotten a game that can
almost
legitimately be called a portable MMO. With everything in the game both available offline and online, this game just keeps on going. Heck, it even has mock-Energizer bunnies to help with that as it's mascot!
​
Gameplay: 8.5/10
While at first glance it's just a typical Hack N' Slash game, it gets much deeper then that. You can't just button mash your way through this game, you have to actually take the time and memorize each different weapon types attack combos. Without doing that, you'll have to settle for one attack every few seconds or so. Combine that with the customizability of your stats and Mags, you'd be very hardpressed to find someone using the exact same stuff as you. And then there's all of the little, hidden areas like the Arena, the Pizzeria, the Bakery, and maybe more.
-------------------------
Graphics: 9/10
For a DS game, these graphics are very, very nice. I'd say just a little bit behind Kingdom Hearts 358/2 Days. And that's a very small "little". For what we've seen the DS put out, this is by no means bad, at all. Coupled with the fact that there is a lot of stuff in this game, and that all of it is 3D, it's not a bad deal at all.
-------------------------
Sound: 8/10
While not my favorite kind music out of a game, Phantasy Star Zero's music certainly does have some nice tunes to it. Many are very fitting for whatever setting you happen to be in, and the quick transition from the normal tunes you hear when not fighting to that area's fighting theme is quite smooth, as well. Each of the areas music and battle tracks, respectively, both almost always fit the setting, which is naturally hard to do in any game.
-------------------------
Lasting Replay: 10/10
While the beginning Story Mode on Normal mode can take a while to do, even after that, the lasting replay still stands extremely strong. But that's no surprise for a Phantasy Star Online sequel, is it? Even after beating the story in Normal mode, yet more quests unlock for you to finish. And then you have Hard mode to go through, which while it is just quests you have already done, they're generally short enough to be done over and over. And let's not forget Super Hard mode, to help you get all the way up to the maximum level of 100. But even then, that's not where the replay shines. The reply shines in the very fact that there is total, 100% Online play. Anything that you can do offline, you do online as well(minus cutscenes, of course). With the 3 different "modes" to play online(Play with Friends, Free Mode, Play Alone), you're guaranteed to almost never be bored. Plus, you can do any of the difficulties on Online mode as well. Definitely the strongest point of the game, it's replayability.
-------------------------
Overall: 9/10
Overall I'm going to give the game a 9/10. The only thing keeping it from that 10/10 in my book is the lack of touchscreen controls. The only thing they have the touchscreen usable on is writing out your comments to other plays, or for tactics for the AI's to follow. Other then that, there's nothing for that. But still, it's a very negligible downfall, and doesn't affect the actual gameplay at all. Very good game, with a big amount of replayability.
9/10