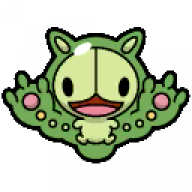 Well-Known Member
OP
Member
Joined

May 24, 2016
Messages

346
Trophies

0
XP
Country
PCalc-USUM - v0.4.0

Download PCalc-USUM on PokemonRNG.com, or in the downloads section below!

Changelog:
SOS RNG Features

Masuda Method/Shiny Charm flags in egg view

Fixed Zeraora showing up

Shiny wormhole flag in extended view
Current Key Combos:
X+Up: Key Combo Menu

Start+Down: Egg Seed View

Start+Up: Game View

B+Up: Extended Game View

Start+Left: Wild Pokemon View

Start+Right: Party Pokemon View

Select+Left: Party Pokemon View -1 Slot, Wild Pokemon SOS -1

Select+Right: Party Pokemon View +1 Slot, Wild Pokemon SOS +1

Start+Select: Pause Game

Pause+A: Unpause Game

Pause+Start: Unpause Game

Pause+Select: Advance One Frame

Select+Up: SOS Pokemon Switch

Select+Down: SOS Pokemon Switch

Party Slot 7: PC Box View
FAQ:
Q: Why is my NPC counter wrong?

A: You need to reset your NPC Counter by closing and opening the Game View

Q: Can I use my O3DS/2DS?

A: YES! You need to use NTR Mode 3 - Check the troubleshooting section below

Q: Where can I find RNG Guides for USUM?

A: Almost every Sun and Moon RNG guide still works for USUM
Troubleshooting:
My console is updated, but the plugin doesn't load!

Please Update NTR by holding X while launching BootNTR Selector

O3DS and 2DS Users: Make sure to install BootNTR Selector and BootNTR Selector Mode 3

O3DS and 2DS Users: Update BOTH versions of BootNTR Selector.

Make sure to update Ultra Sun and Ultra Moon to the latest versions

Ask for help in the PokemonRNG Discord!
Features:
Multiple Menus and Views

X+Up for Menu, help, and features

Wild Pokemon View

Including SOS Support

Also includes SOS Chain Counter

Party Pokemon View, including all members of the party

Pokemon Box View

Egg Seed View

RNG Tools

View Initial Seeds

View Current Seeds

View Frames

Pause and Unpause the game Live

Frame Advance while paused

SOS RNG

NPC Counter in the "Game View" window

Open your "Game View" window and let your game sit for about 30 seconds to get an accurate NPC count

Close and open the "Game View" window when you move your character to reset the NPC count to zero, and have it count again.

Multiple Breeding Tools

Egg Species Line Checking

Remaining Egg Cycle Counter

Notification for Egg at Nursery

Parent Species

Parent Gender Ratios

Masuda Method and Shiny Charm checks

TSV/PSV Checking

Check Your own TSV and Pokemon's TSV/PSV

Check is wormholes are shiny without entering the battle
Moves and their PP for breeders and SOS battlers
Pokemon EVs for EV training
IVs highlighted green or red depending on really high or really low stats
A Pokemon's PSV and TSV will be highlighted if they are the same (this means the Pokemon is shiny)
Please post screenshots on The PokemonRNG Discord!

Notes:
You will need NTR CFW on your 3DS!

You will need wwwwwwzx's 3DSRNGTool to RNG abuse Ultra Sun and Ultra Moon!

We have a Patreon! This is primarily used to fund various services on our Discord, our hosting, and development, with more (hopefully) soon to come!

Credits:
- All of our Patrons - you've done so much towards the advancement of RNG this year - Thank you so much!!!
- Shiny_Sylveon for being there for me always, helping me outside of Pokemon, and caring for me like no one else!
- Admiral_Fish for helping keep PCalc maintained and running nice!
- Shiny_Sylveon, FrostByte_Manuel, Subject21_J, CptnObvious, bumbalicious, Real.96, Vovvy, and Vlad for being incredible Discord Mods!
- wwwwwwzx for 3DSRNGTool
- Zep715, wwwwwwzx, Real.96, and Admiral_Fish for helping research USUM RNG
- Cell9 for NTR
- Pokemon researchers of all kinds!
- Everyone involved in the 3ds hacking scene!