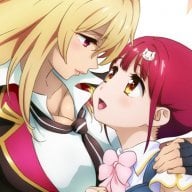 Well-Known Member
OP
Member
Joined

Apr 7, 2017
Messages

257
Trophies

0
XP
Country
Released in 2015 Omega Labyrinth (
ωLabyrinth)
is a rougelike dungeon crawler centering around Akemiya Aina, who wishes to use the Holy Grail of Beauty hidden in an ancient cave that only opens on the school's founding day to make her breasts bigger, the story is from your typical girls only ecchi anime but the gameplay is actually very good.
The game itself is translated but is unedited because many wanted it released early so expect some typos and things not appearing properly, if ]you find an error then post a screenshot of it to this thread or on the discord and I'll fix it, just telling me without a reference makes it hard to determine what needs to be fixed.
Download rePatch and copy to tai folder
Open config.txt and under *KERNEL add ux0:tai/repatch.skprx or ur0:tai/repatch.skprx
Reload config.txt in Henkaku Settings Extract 7z/zip/rar
Copy all folders to ux0
Play
⌈DOWNLOAD⌋
MEGA / Mirrors coming soon.
v0.05 - Translation
Story is fully translated
v0.04 - More Editing
Fixed all reported issues so far.
v0.03 - More Editing
Fixed most of the errors present in chapter 1.
v0.02 - More Editing
Updated to use rePatch instead of old method from 3.60.
Slightly edited, fixing most errors reported in thread.
v0.01 - Initial Release
Unedited alpha of the game is released.
Credits
Yuuko Shionji

Fuzzy-Predator "Shadowblade"
Bakura
Join our
Discord
server to discuss the translation or to contribute.