Well-Known Member
OP
Member
Joined

Mar 4, 2009
Messages

461
Trophies

0
Age

30
Location
Website
XP
Country
Well I just realized it's been a while since I recommended the temp any hentai.
So here's bnwchbammer's signature
"Make the 'temp feel kinda awkward hentai guide!"
...Yeah.
So I've just got 4 recommendations for you today.
2 animated ones and 2 mangas.
So heeeeeeeere we go!
First off in animated ones we've got
Sono Hanabira ni Kuchizuke wo - Becoming Your Lover
So, there are more episodes/mangas/visual novels, but hey, I saw this one first.
It's yuri if you're into that stuff.
But yeah.
I'm generally not a fan of animated stuff.
Voice acting is usually... awkward to say the least, and the story usually sucks.
But I'd say in terms of voice acting, it's pretty good.
I'd also say in terms of an h-story, it didn't do bad either.
Kinda had the bawww aspect in it.
Artwork is also really well done.
Also, it has now sparked my interest to look into the series itself some more.
So I may be back at a later time discussing that.
Next up in animated we've goooooot
Kanojo x Kanojo x Kanojo
(Technically that pic is from the visual novel, but every other pic I looked for was NSF'temp)
So yeah.
It's one of those harem style shows.
3 girls, one guy, each girl with a drastically different look and personality.
Generic, maybe, good, maybe.
I wouldn't call it bad at all, actually.
The animation is quite well done, especially for an h-anime.
(Dunno how many h-animes you've seen, but some are just awful)
But yeah, I'd recommend it.
Movin along to the h-mangas
Cutie Lips
9 unrelated chapters of different stories from different couples.
It's hard to have a definitive overview of the storyline as they're all different, but none of them are bad stories.
Every chapter seems to follow the same kinda formula of introduce characters -> some aspect of a storyline -> characters have sex -> something funny happens/is said.
It's a formula that works and makes for a good read.
Finally!
Koi wo Suru no ga Shigoto Desu (Falling in Love is Work)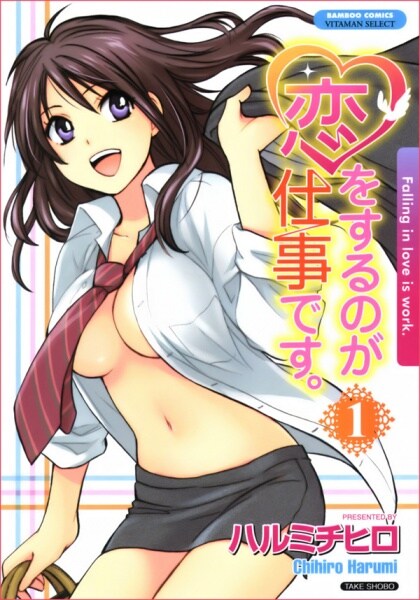 2 complete volumes are out now and chapters are being rolled out from time to time.
It follows couple who got two jobs at competing toy companies.
Their jobs both don't allow dating people from the other company, and they have to hide it.
It's definitely a good read with amazing artwork.
The humor is good and the characters are likable.
Yup yup.
So that's it for this time.
Figure this may be better than giving you the full pics in some of my sigs...
And I'm not giving download links or wutever.
Be advised, all of these are sexually explicit, so, I mean, don't be looking these up on a family computer or wutever.
Also don't be looking into these if you're under 18 or wutever
(HA)
But yeah.
Peace!