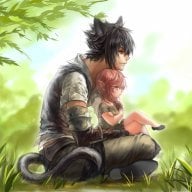 Baby I'm Back ♥
OP
Member
Some new details were released today via the Pre E3 Presentation:
​
-The WiiU Remote or Gamepad can be used as a fully operational Infra-Red Television remote.
​
-Motion and Gyro sensors have been confirmed
​
-No need to be sitting in front of the Tv, you can continue playing while another user operates the Tv. There will be High quality graphics on the remote with no lag.
​
-Wii U Pro Controller to be released, no gamepad, Lighter, resembles an Xbox controller
​
-WiiUMenu seen at power on, Miis are seen everywhere, you see your Mii, your families miis, your friends, people in your country, people playing the same games as you. Miis gather around tiles, the tiles are shown on the WiiU gamepad for tile selection.
​
-3Ds like multi-tasking.
​
-Video chat, through friends list, called Together WiiU.
​
-MiiVerse/Wara Wara network communication activated anytime with multitasking. Compare scores and help each other out when a user gets stuck.
​
-Can write and draw instead of typing, add facial expressions and screenshots.
​
-All games directory, shows all games available.
​
-MiiVerse/Wara Wara can be intergrated into games, allows comments and other things to show in game.
​
-App for MiiVerse/Wara Wara in development for: PC, 3Ds, any web enabled mobile device.
​
-Nintendo Network, shows social integration between 3Ds, WiiU and future consoles.
​
-Cloud video streaming through Remote to the Console.
​
-Mario for WiiU confirmed to be in development.
​
- Miiverse can be used with games that don't feature online interactions
​
- Wii U internet browser lets you share what's on the Game Pad via your TV
- close a virtual curtain over a TV screen to keep what you're browsing on the Game Pad a secret, reveal when you want to
- plenty of 3DS news coming during 'other upcoming opportunities
Together better. Images Courtesy of GoNintendo​
Promo:​
[yt]j9rMD2dtdDI[/yt]​
MiiVerse/Wara Wara in Games:​
[yt]GuEirTArqW0[/yt]​
Complete Stream:​
[yt]9AkPdAWfFjI[/yt]​