Nintendo Developing A Direction Sensing Card?
DS Houi Sensor Card
Are Nintendo planning on releasing DS games that rely on motion?
QUOTE said:

A curious trademark popped up in Japan's trademark database one registered by Nintendo for a "DS Houi Sensor Card". Houi is Japanese for direction so the trademark is related to a DS card that can detect direction or perhaps even sense motion. Motion sensing games for the DS have been done before. Slide Mag Kid came out in 2007. However, it would be interesting if Nintendo built direction/motion sensing directly into DS cards without the use of an accessory. I wonder what Nintendo franchise could make use of such a device.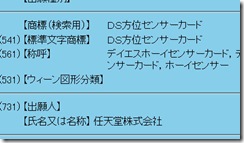 Source

Discuss