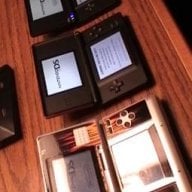 Graphic Designer
OP
Member
I'm not sure how the mobile view works with sites, if it costs extra, what work is to be involved but its just an idea based on knowing nothing about it so forgive me if this has been suggested before or its asking too much.

I think we should have a mobile view version of the temp because when I use the internet on any mobile device, whether it be my phone or my iPod, I am usually browsing GBAtemp. This site is not mobile friendly at all, there is a lot too load and the screen format it just terrible for it. It would be extremely nice to just have a nicely formatted view of the site, with less clutter and an easily navigable interface. Also, instead of this, maybe at least app for the iPod touch would be nice that runs this site in a mobile view, much like Facebook, eBay, and Myspace apps.

I really thing this would be an incredibly useful thing and I think that many user would agree. I would really enjoy browsing the temp when I'm away from my computer.