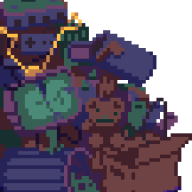 Well-Known Member
OP
Member
Joined

Mar 2, 2016
Messages

184
Trophies

0
Age

36
XP
Country
Hi.
This is the 2nd release of my port of Paul C. Pratt's Mini vMac emulator to the Nintendo 3DS and New Nintendo 3DS.
Github page:
https://github.com/TaraHoleInIt/minivmac-3ds
More information about Mini vMac in general can be found at the author's site:
http://www.gryphel.com/c/minivmac/
Notes
Disk images must be auto loaded at runtime so make sure they're named diskX.dsk where X is 1 to how many images you want to load.
Have your OS image already to go before copying your disks to your 3DS as you cannot swap disks to complete the install on the 3DS.
There is no sound, and I haven't attempted to look into it yet.
Macintosh II emulation on the o3ds is SLOW, especially in 256colors
If you're getting a black screen with the Macintosh II builds be patient, it just takes a bit to load (ESPECIALLY o3ds)
Keys:
DPAD
Is mapped to arrow keys
Select
switches between scale modes on the upper screen
Start
toggles the Mini vMac control mode interface
L and R
Shoulder buttons are the mouse button
Y
Toggles the on screen keyboard
Circle pad and Circle stick
move the mouse
Touchscreen moves the mouse
After shutting MacOS down properly, press L + R + Start to exit or use the control mode interface
Screenshots:
If you are getting a flashing disk and nothing else, make sure your first disk image (disk1.dsk) is a valid bootable Mac System disk.
It's best to verify your disk images in the desktop version of Mini vMac before copying your disk images over to your 3ds.
Release page: https://github.com/TaraHoleInIt/minivmac-3ds/releases

changes said:


Added:
Support for Macintosh II @16 colours
Support for Macintosh II @256 colours
Support for circle stick on n3ds
Mouse on the touchscreen is now an absolute pointer
CPad and CStick mouse speed move in relation to how far you move the stick
Pressing X will now dismiss Mini vMac messages

Updates:
Mini vMac source base 3.5.1 beta
1BPP Framebuffer conversion should be just under 3x faster on o3ds
Updated partial framebuffer updates to accept left/right box

Fixed:
Probably a bunch of stuff.