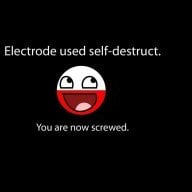 RepititionRedundancyRepitition
OP
Member
Joined

Sep 26, 2010
Messages

438
Trophies

1
XP
Country
MicroSD: Samsung Evo 128GB
VID: 14CD
PID: 125D
Memory Chip: 0100
Chip Model: 125D20140310

Few things:
MicroSD age: Less than 1 month since purchase
I did not write protect it
Device using MicroSD: New Nintendo 3DS XL, latest luma, latest CFW/FBI/etc.
I can read everything installed (98GB of data) but cannot delete or write to it at all.

I was copying Ultra Moon to it, something failed, and it became write protected somehow.
I have used regedit, cmd, chkdsk, Hard Disk Low Level Format Tool, SDFormatter, and literally every other way in my mind to get it to not be write protected but with no avail.
I have copied all the data from the MicroSD and have a backup. I do not have another 128GB MicroSD.
I need to format this card and cannot. I need to write to this card and cannot. I need this card...
Suggestions?