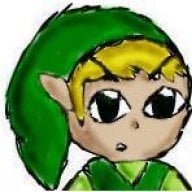 Joined

Oct 8, 2007
Messages

154
Trophies

0
Website
XP
Country
I was watching some reruns of these the other day when i wondered which people prefer more

. Even now when i'm 15, i really love watching Tom & Jerry/Looney Tunes. I could never really appreciate the work put into it as a kid, but now it's just amazing how well each are animated, along with the sound effects etc. For those of you who don't know, each cartoon took like 2 months to make, a 5 minute animation. And that's actually a bit short, i mean, EVERY SINGLE FRAME was hand drawn, and the whole thing was moving at say, 25 Frames per second. 7200 frames were hand drawn and fully painted for a mere 5 minute cartoon. That kind of work has to really be appreciated.
Anyways, Bugs Bunny on piano:
...And Tom & Jerry on piano (won an oscar):
There was an episode of Looney tunes called 'A feather in his hare' (sadly it has not been uploaded to youtube), about bugs bunny and the supposed 'last mohican'. One part, he takes a chunk of mud/clay, molds a vase, puts it in the oven, and paints it, just in time for the mohican to come so he can drop it on him. That part is priceless.
Here's another T & J episode. The part where tom annoys spike is hilarious:
MY opinion: Tom & Jerry>Looney Tunes
Edit: I'm only talking about the classic T & J episodes, and the Merry Melodies in Looney Tunes. It would be a bit unfair to put 3 different concepts vs. Tom & Jerry. (Bugs bunny/Daffy Duck with Elmer Fudd/Porky Pig (similar in their jokes), Sylvester and Tweety (also different concept), and the Roadrunner cartoons, which are basically a genre on its own.)
So just to be fair, i'm only talking about the Bugs Bunny/Daffy Duck ones (Merry Melodies)
Edit 2: Fixed Video links