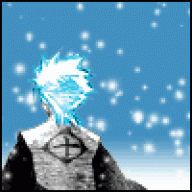 Joined

May 19, 2008
Messages

2,952
Trophies

0
Location
Website
XP
Country
i haven't played Cod4 in MONTHS .
reasons being XBOX and school . XBOX, cause i play with my friends more and school, just cause it's school.

since today i had a LOT of free time, i decided to install a bunch of programs i was interested in using.
Photoshop CS5, After Effects CS5, Vegas Pro 10.0 and CoD4 .

after installing all these programs, i made myself a simple YouTube background [well i just added text, since the other attempts were too extra] .
i got Xfire installed since it had the list of servers i regularly go to .
i check and noticed more than half the servers were closed down >_< .
luckily, the canadian based server was still open and was one of my favourite ones because of the low ping i would receive .

after joining, i had to start all the way from Rank 1 .
it wasn't hard, to rank up, but the first few games i had to get myself used to the guns and the old maps .
eventually i got the hang of it and just kept on playing .
after a while, i get kicked from the game, and when i try to reconnect, it said i got temp-banned from the server.
i was just like , what did i do o_o ?