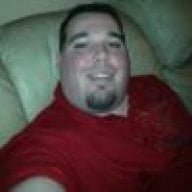 Well-Known Member
OP
Member
Joined

Feb 12, 2010
Messages

293
Trophies

0
Age

40
XP
Country
Went to Comic Con yesterday got there way late at 4:00pm they closed at 5:00pm but got to stay on the show floor until about 6:00pm (They were closing packing up and taking up the rugs from 5-6 trying to kick people off the show floor. I just kept running away from the employees to stay as long as I can.
Got to play a few games while there such as Captain America Super Soldier, Dead Space 2, Need for Speed (Forgot which one it was for PC), Starcraft 2. I will say this, the Captain America game is AWESOME. I got a bag full of free crap, mostly advertisement papers and fliers from people trying to sell and promote their stuff, also got a free t-shirt which did not fit but I don't really care.
After Comic Con I went outside the Javits Center, hung out with a whole bunch of geeks and talked about manga, anime, comics all sorts of crap. Something funny happened while outside, some Food Vendor was asked to move by a cop cause Comic Con was over and they had to leave to stop blocking the sidewalks. Food Vendor says okay I'll pack it up..15 minutes later he's still not moved so the cop says to him if you don't start moving this cart right this second I'm writing a ticket. Vendor starts messing with the cop, says come on man..want free shish kabob and soda? Cop says are you kidding with me? Are you ****ing kidding? Writes him a ticket and pushes his cart into the street and then demands his free shish kabob and soda and he got it LOL.
After that I just walked around NYC hung out with some nerds went to McDonalds to eat and then walked around by myself and eventually took the train home to Jersey.
Now onto the pictures!!
Aexeous
http://img832.imageshack.us/img832/6652/aexeous1.jpg
Artist Alley
http://img52.imageshack.us/img52/8962/artistsalley1.jpg
Avengers
http://img830.imageshack.us/img830/2995/avengers1.jpg
Batgirl & Me
http://img192.imageshack.us/img192/7232/batgirl1.jpg
Batgirl 2
http://img829.imageshack.us/img829/8563/batgirl2.jpg
Batgirl 3
http://img191.imageshack.us/img191/228/batgirl3.jpg
Batgirl 4
http://img535.imageshack.us/img535/7906/batgirl4.jpg
Borders Book Store
http://img841.imageshack.us/img841/9717/borders1.jpg
Capcom
http://img59.imageshack.us/img59/8923/capcom1.jpg
Closing Time at Comic Con
http://img580.imageshack.us/img580/9226/comiccon1.jpg
Dungeon & Dragons Section
http://img840.imageshack.us/img840/356/dungeonanddragon1.jpg
Edward Scissor Hands
http://img707.imageshack.us/img707/223/edwardscissor1.jpg
Empire State Building 1
http://img806.imageshack.us/img806/7666/empirestate1.jpg
Empire State Building 2
http://img841.imageshack.us/img841/3007/empirestate2.jpg
Empire State Building 3
http://img140.imageshack.us/img140/289/empirestate3.jpg
Green Hornet Section 1
http://img38.imageshack.us/img38/7689/greenhornet1.jpg
Green Hornet Section 2
http://img176.imageshack.us/img176/4839/greenhornet2.jpg
Green Hornet Section 3
http://img838.imageshack.us/img838/2654/greenhornet3.jpg
Green Hornet Section 4
http://img85.imageshack.us/img85/3883/greenhornet4.jpg
Green Hornet Section 5
http://img97.imageshack.us/img97/8430/greenhornet5.jpg
Intel Area 1
http://img440.imageshack.us/img440/9494/intel1.jpg
Intel Area 2
http://img508.imageshack.us/img508/6826/intel2.jpg
Jacob Javits Center
http://img189.imageshack.us/img189/3161/javitscenter1.jpg
Ken & Ryu
http://img838.imageshack.us/img838/9282/kenryu1.jpg
Lego Statues 1
http://img269.imageshack.us/img269/5874/legostatue1.jpg
Lego Statues 2
http://img687.imageshack.us/img687/7783/legostatue2.jpg
Lego Statues 3
http://img541.imageshack.us/img541/7427/legostatue3.jpg
Lego Statues 4
http://img808.imageshack.us/img808/3609/legostatue4.jpg
Lego Statues 5
http://img826.imageshack.us/img826/9324/legostatue5.jpg
Lego Statues 6
http://img156.imageshack.us/img156/543/legostatue6.jpg
Lowes Theater 1
http://img580.imageshack.us/img580/8307/lowes1.jpg
Lowes Theater 2
http://img840.imageshack.us/img840/5194/lowes2.jpg
Madison Square Garden
http://img189.imageshack.us/img189/1126/ma...uaregarden1.jpg
Magic The Gathering Section
http://img218.imageshack.us/img218/449/mag...egathering1.jpg
Michael Jackson Area
http://img339.imageshack.us/img339/7717/mi...ljackson1ii.jpg
Skull Guy & Green Girl
http://img197.imageshack.us/img197/4607/sk...ygreengirl1.jpg
Random Statue
http://img232.imageshack.us/img232/2969/statue1.jpg
Storm Trooper
http://img198.imageshack.us/img198/4552/stormtrooper1.jpg
Tall Guy Costume
http://img827.imageshack.us/img827/9894/tallguy1.jpg
Thor
http://img836.imageshack.us/img836/8610/thor1t.jpg
Ubisoft Area
http://img709.imageshack.us/img709/9500/ubisoft1.jpg
Ugly Doll Area
http://img259.imageshack.us/img259/2987/uglydoll1.jpg
Yoshie
http://img844.imageshack.us/img844/2839/yoshie1.jpg