Joined

Oct 24, 2002
Messages

11,773
Trophies

4
Age

38
Location
Website
XP
Country

GBAtemp Recommends! Max Payne Advance
G.R. Issue #13 (GBA)

We hope you enjoyed last weeks Recommendation! Did you have a blast, or did you end up dozing off? Nevermind...
Welcome to the thirteenth issue of GBAtemp Recommends! - a weekly magazine feature in which we share our favourite Game Boy Advance titles. The games we recommend may be top titles from the GBA library, a homebrew, or they may be sleeper hits that flew by the radar, but one thing's certain, they're all fantastic games that deserve your play time!
GBAtemp Recommends!
Max Payne Advance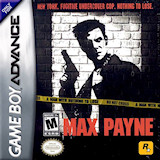 Swooooooooooooosh! Bullet time, baby! Forget the shitty movie, Max Payne the game was a *classic*! And Rockstar thought enough of this classic game to attempt to cram it all into a Game Boy Advance cartridge. But did they succeed?

If you haven't played Max Payne before (and you're missing out), the game basically boils down to an action shooter. You're a NYC cop whose wife and daughter have been killed by a gang of druggies. You're framed for the murder, so you go undercover to get to the bottom of things.

Presentation wise, Rockstar did an astounding job with the GBA conversion. The cut scenes are comic book style frames, with full spoken dialogue (compressed). The game has about 12 levels to run through and can be completed in approx. 5 hours or so. Rockstar chose to ditch the 3D perspective of the original game and opted for an isometric view for the GBA rendition. Due to obvious hardware limitations, this was probably for the best. The isometric viewpoint, once you've accustomed yourself to the buttons, and limited viewing area, works quite well. The controls are tight and graphically, the title gets the job done. It keeps the grey, dreary look of the original and the music fits the bill perfectly.

The story, while cut down a little from it's PC counterpart, translates well here, and keeps you gripped throughout. The spoken dialogue is a great touch, and the comic book style pop-ups during gameplay keep you tied to the story.

For the most part you'll be running through each level killing every moving object in sight with your gun, a wide range of which you can pick up as you progress. The levels are fairly linear with a few puzzles thrown in to slow you down. The big wow-factor though, is the games "bullet time", which allows Max to do a full-on Matrix style jump that slows down time and enemies to a crawl (for a few seconds), allowing you to spin around 360 degrees in mid-jump and waste some of the baddies! Your use of this is rationed though, so be careful! The levels are fairly interactive also, with an abundance of crates and objects to break open and shoot at, providing you with ammo and a means to complete puzzles.

The only thing that may tick some people off though, as I've said, is the limited viewing area, restricted by the GBA's screen size. The game has a habit of hiding enemies just far enough off the visible viewing area for them to shoot at you, and leaving you with no idea where they are. Fortunately though, the game does make up for this a little bit, by having a somewhat automatic aiming mode, making firing at enemies while you flail around the screen in your black trenchcoat that little bit easier.

If you're a sucker for a good action game then give Max Payne Advance a go if you haven't already. Keep in mind the limitations of the GBA hardware and you may be pleasantly surprised with what Rockstar managed to pack into 16 megabytes of cartridge.
Game Synopsis said:

Max Payne is a man with nothing to lose--a fugitive undercover cop framed for murder, and now hunted by the cops and the mob. As Payne, you'll uncover plot twists, engage in dramatic "bullet-time" firefights with thugs, and fight your way through an unforgiving New York blizzard. Max can wield a variety of weapons including pistols, submachine guns, shotguns, sniper rifles, grenades, and Molotov cocktails. Prepare yourself for an involving story combined with slick action.

#1335 - Max Payne Advance (mode7)

#1421 - Max Payne Advance (Rising Sun)

Genre:

Action Shooter

Publisher:

Rockstar

Dump Date:

18/12/2003

ROM Size:

128Mbit

If you enjoyed this weeks edition of GBAtemp Recommends! please leave a comment in the thread. This helps us monitor feedback and ensures we keep posting these magazine articles in the future.

View in G-Online

Game Profile at IGN

Official GBAtemp Recommends! Mini-Page & History

Discuss (%nbreplies% comments)