Joined

Nov 21, 2005
Messages

35,949
Trophies

3
Website
XP
Country
56 is the number of this edition of GBAtemp's book game club.

GBAtemp's book game club is a feature wherein we explore the best and also the most interesting ideas from the libraries of commercial games, homebrew, rom hacks and leaked code for the GBA, DS and Wii (as well as the occasional game the DS can emulate). Afterwards if you are just playing it for the first time or wish to recall a previous play through you are invited to discuss it among the others in the thread.
#56- Professor Layton and the Curious Village (DS)
The year was 2007 and the handhelds had been gaining a reputation as a place for ports and sequels and others had been bemoaning the lack of adventure/story driven puzzle games (indeed we have attempted to feature many of the better attempts at them in earlier editions of this series) when all of a sudden veteran developers Level-5 (previously known for their work on Dragon Quest 8 among other things although they have since released several other highly acclaimed franchises) unleashed the Professor Layton series on the world. It would take a year to make it out of Japan but for a little puzzle game it took the DS by storm.
The game itself as mentioned is a story driven adventure featuring a lot of puzzles with the puzzles themselves coming from a variety of puzzle genres and some make great use of the DS hardware. We also hold it makes for a great DS game to have around but be able to stick the DS in hibernate at short notice and those are not as common as they might be.
Trailer from the game
[/p]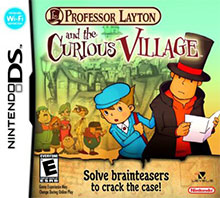 GBAtemp release thread
[/p]
Should Level-5 have stuck to making RPG type games or did the make something special?[/p]
gbagotw should get you other links in this series