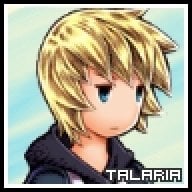 Joined

Jan 31, 2007
Messages

584
Trophies

0
Location
Website
XP
Country
Entry Four:
I know I didn't post in my
blog
yesterday but I had nothing to say. But today I do. Sitting in front of me today is the newly released Hijouguchi: Exit DS. Here are my narrow minded and rather bias views on this game after only playing 2 hours of it
Hijouguchi: Exit DS
I have been excited to play this game ever since I played the flash demo. The game has an underlying charm which can't be described in mere words unless you play it (Such as, wtf!?, grrrr and the often @#$!). Once loaded the great thing about this Japanese game is the Menu and options inside the menu are in English allowing you easy navigation for non-speakers. I recommend some basic knowledge in Japanese as it can help learning button controls and what do in the game however the game is entirely playable without, as it has a non-existents dialogue and once you've learnt the controls, does not require any knowledge of japanese. Now into the gameplay.
When playing through the first level, the thing that hits you after 30 seconds is… the touch screen controls are crap and cause you to make a lot of mistakes. For more precision I recommend to use the button controls*. The formula is pretty simple, find all the people constantly yelling out for help, then get rid of any hazards and herd them all to the exit before the time runs out. This simplistic idea can be a devil at times (even in the easy levels) causing you to utter many profanities and…and…yeah. Often the game requires you to make use of the rescued civilians and animals to hold down switches, help move objects and sometimes lift the fat guy up over a wall. The many interactions and uses of the rescued civilians and animals make each level less repetitive and generic. It also brings in new puzzles and features every couple of levels which can make some of them rather refreshing.
Showing the use of civilians to help Taito out
The music in this game is pretty average there are some good tunes but is pretty average. One annoying part of the game is the sound effects. When playing a level with civilians nearly every 3-5 seconds your here "Somebody help me!" which can get really annoying and frustrating.
So far I have enjoyed this game (Not far, up to Situation 4) and at heart it is a likeable puzzle game with innovative levels, great charming graphics and the feel of a game made for the DS from the start.
Ciao
Talaria
*- Unfortunately the game does not give you a chance to change the controls in-game so you have to go back to the main menu and select "Options" then "Controls" then "Button**" all in self explanatory eigo (English)
**- A list of button controls for button mode can be found in this
thread page
, courtesy of Rayder