Review Contents & Index:​
Introduction
- Official Feature List
Packaging and Contents
Design, and Impressions
Set-up and Usage
-Hardware Installation
-Software Set-up
Performance
Conclusion
The Echoroamer is a nifty device that allows you transmit the imagery from your iPhone 4, and 4S. It works with non jailbroken device, but you lose some of the features such as transmitting games, Safari, and other applications. You're limited to videos, music, and I do believe Apple has some applications that support TV out. In this day of age, If you don't have your iPhone 4/S jailbroken. (Doesn't even have to be for piracy, could be for themes, and emulators.) Then you really are missing out. The Echoroamer currently doesn't have a estimated price, I'll update this thread when I do.​
Play Videos, and Movies.
View Photos.
View Websites.
Present Presentations.
Output Other Applications to your TV screen.
Instruction Booklets.
Echoroamer Receiver.
Echoroamer Transmitter Case
AV Cable.
USB Cable.
Wall Adapter.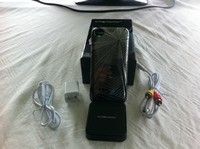 Design, and Impression​
The Echoroamer transmitter I must say has a very stylish design. I was expecting a plain black design, but they've decided to add some class to the casing. It's half metal, half plastic, and the spot where your iPhone sits is a sort of velvet feel to it. Very nice, as I said. The Echoroamer receiver is a a nice glossy black, with a matte finish at the bottom. The USB cable, and AV cable are pretty sturdy. (As sturdy as a cable can be.) The Wall adapter is just like the official Apple one. (In fact, I noticed that it had the same printing as the official Apple one.) My only complaint is that the Wall adapter has a little rusting on the prongs.​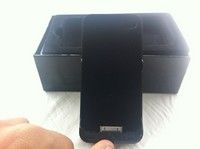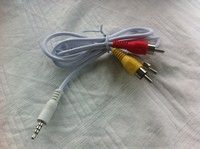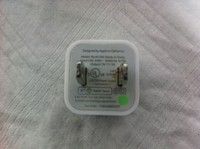 The hardware setup is very straight forward. You simply slide your iPhone into the receiver, and make sure it's secure. Next you plug the USB end of the USB cable into the Wall Adapter, and the other end into the receiver. After that, you simply plug the AV cable into the receiver, and plug the Yellow, White, and Red cables into the corresponding input ports on your TV. If done correctly you'll notice a blue light emitting from the USB port, on the receiver and a single green light emitting from the Transmitter. As a side bonus, you can also use the USB cable to charge your iPhone. Just connect it to the port on the Transmitter.​
Software​
Software wise is extremely easy as well, if you're not jailbroken you're all ready to go. Just go to whatever application you want to send, and activate TV out. (That supports TV out.) If you are jailbroken then you'll want to download a free application from Cydia called "TVOut 2Mirror TVOut". It allows you to control the size of the image that's outputted, as well as other useful manipulations.​
Usage​
NOTE: Please excuse the quality, I recorded it with a easycap. The quality is much better on the TV. I couldn't get the sound to work on my easycap, but it does transmit audio. You can see some of the hiccups of the software, and some snow. (I had the transmitter as close as possible to the receiver.​
The Echoroamer does it's job, but how well? The outputted video is great, but go further than 5 feet, and it's start showing a little snow. Not very useful when trying to present something from far away. It may just be that my sample is a prototype, but this issue exists and I'm sure they'll try to fix it. Another bummer, is that it sometimes won't load applications and just shows a black screen. (On the phone, and TV.) You can see instances of this in the video I made. In the time that I've played with it, I've had to reset my iPhone twice. Due to the screen freezing, and being unresponsive. Other than these issues, the video quality is very good, when the device is close to the receiver and the sound is very nice.​
EDIT: I seemed to have been getting interference. I moved the receiver, and the snow was gone. So just a little hiccup here, and there but nothing too noticeable.​
The Echoroamer has a few issues that need to be worked out, some software wise and one hardware wise. Other than that it's a really good TV out device for your iPhone 4/4S. I'm curious to see if they'll come out with component cables, but I digress. The simple fact of the matter is that, it needs to get some better software needs to be made, or maybe there's some other software that does the job better. I believe they'll address this issue before selling it to the public. Overall, I give it a 8/10. Fix the issues, and give it a good price. It'll be a great device.​