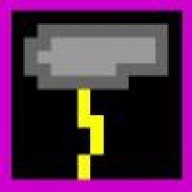 Active Member
OP
Newcomer
So I've been playing the game now for hours on end, getting through solo mode, killing everyone in together mode, and so on. However, I've had a craving to put the skills I (and others) have developed since the game's release to the test. If enough people are down for it, I'd like to make a tournament for the game. I'm not sure what prize the winner will get, but I did think of the rules for it, in case you want to place some input on how the tournament will go
Rules
Single Elimination Swiss Tournament
Light vs. Dark is the game type
Contestants will be organized by teams (yes, you can have a team name)
Each team will have a team leader, who will be responsible for hosting games and exchanging friend codes with other team leaders
Macthes will last for the default 5 mins on a random stage
All weapons and powers are allowed (unless there are people already complaining about certain powers and weapons, address them in the thread)
Best 2 out of 3 matches
If enough peeps sign up for it, I'll try my best to organize this shindig. If you have a team already you'd like to sign up for, the team leader can sign up at
http://challonge.com...gnup/ymufnxsykf
If you want to find people to make a team, use this thread
For the time this will go down, I wanna say next Saturday at around 3:00 PM EST, but if you guys have a better idea, let me know
EDIT: OMG, I can't believe so many people are psyched for the tournament, its gonna be amazing! Before we start tomorrow, don't forget to post your team leader's FC on this spreadsheet, it will allow for easy matchmaking.
https://docs.google....zJ40b6FoGM/edit
Also, when I give out the first set of rounds, I need to set some rules:
The person on the top of the round listing (you'll know what I mean when I post the bracket) is in charge of making the game
ALL OPTIONS ARE ON DEFAULT!!!!!!
When you make the game, don't forget to allow players friends to join to (This allows for a more organized FC exchange, rather than exchaning all their FCs)
If a team member is not present, a CPU will be used. As for the level, refer to #2
Can't wait to see you guys tomorrow!