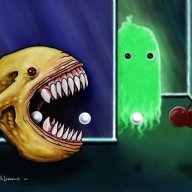 Joined

Mar 6, 2015
Messages

5
Trophies

0
Age

26
XP
Country
I am getting a 3DS soon, and I want to really look into homebrew and related things. I have a PSP with CFW for playing a lot of games, and reading books. I am not really extensive with PSP CFW, but I know my way around with it.
The only way for running CFW, that I read, was NinjHax, using Cubic Ninja, weather on the real cart, a flashcart, or a download from the eShop before it was removed from the shop. Since I want to spend as little cash on this as possible, I looked up to see if you could just download a eShop version and use it. I learned that eshop games are stored in the 3DS/XXX/XXX/title, and each one is "hashed" (I do not know if that is the correct term or not) to the 3DS it was downloaded onto. I'm curious if the info that says what eShop games are attached to the 3DS, are on the 3DS itself, or the SD card the game is stored on, or on the eShop game itself. If you can somehow install an eShop onto an SD card via a computer, and somehow hash it to the 3DS, I'd like to know how. If it is not possible, please say why.
The only way to run DS or 3DS ROMs that I know of is via FlashCarts, though these are a bit expensive, and I'd like to spend little as possible. The only ones that I seen that are cheap, run only DS games. I'd like to know all methods of running 3DS and DS ROMs, if any, besides the flashcarts. Also, I'd like to know why you can't run 3DS ROMs off the SD card with homebrew? Or weather or not it will be possible in the near or distance future.
Like the PSP, I know the 3DS cannot run Unsigned code, without homebrew. What is signed code, exactly? Is it marked as "official?" How hard is it to get a program for the 3DS to be signed? I know on the PSP I have an emulator or two that are signed, and can be played without CFW. Is it possible to do that with any programs for the 3DS.
Now, I have a theory, and I'd like to know weather or not it is possible, easy, extremely difficult, or just not worth attempting. The 3DS checks for updates via the internet, then attempts to update if there is a newer version. Would it at all be possible to have a router that isn't connected to the internet, but has a computer or server on it's network, that tricks the 3DS into thinking it is the internet, and/or tricks it into thinking that it is a Nintendo server, with a "new" update for it. And said update is CFW that it reads as official and
downloads
it, and the CFW(3DS assuming it is OFW) enables unsigned code to be run. Would this be able to be possible, or just considered science-fiction?
Sorry if I seem to say pointless things, ramble, or be unclear. If you have any issues, please say so, and I will edit and fix it the best I can. And if you know of any info that may be useful to me, or be what I want to know, point me in its direction. Thank you in advance.