Here are some games that I ported. They're all at a playable state. There are still a lot of flaws and bugs remaining though. Anyway, I decided to release these little projects for those that might be interested.
BINIAX
-2
Biniax-2_Wii v.01
Source code
BLOBWARS : METAL BLOB SOLID
Metal Blob solid v0.1
Source code
The loading times will remind you of Atari st or Amstrad era! I'm not sure I can improve this. Fortunately, the levels are quite fun and take about +10 minutes to finish, so...
SECRET MARYO CHRONICLES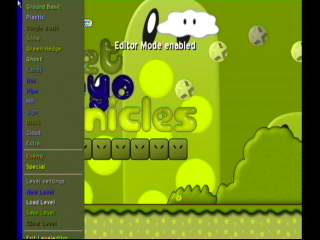 Maryo chronicles v0.2
Source code
A maryo-like game with an in-game editor. A mouse and a usb keyboard are highly recommended for the editor!
HOW TO PLAY :
WIIMOTE
* B: Load level
* 1: Shoot
* 2: Jump
* -: Item
* +: Level editor
* Home: Menu
* Dpad: Run/Choose level
CLASSIC CONTROLLER
* A: Jump
* B: Jump
* X: Shoot
* Y: Shoot
* -: Item
* +: Level editor
* Home: Menu
* ZL: Load level
* Dpad: Run/Choose level
Official Website
ZELDA : RETURN OF THE HYLIAN
ZeldaROTH v0.1 English
Source code
ZeldaROTH v0.1 French
Source code
FUNNYMU-WII
A Funvision/Creativision emulator. It's a console of the 80's. The games are essentially clones of Atari 2600 with slight differences (different characters for ex.) : Crazy Chicky(Pac-Man), Police Jump(Donkey Kong) etc...
This is a quick port, you can only launch one game and the exit the emulator to launch another game.
You need the "bios" file FUNBOOT.ROM IN bios folder.
FunnyMu_Wii-v0.1
Source code
Some info
HATARI-WII
An atari st emulator based on Hatari 1.4. This is a work in progress. The main menu has been simpilified. You can browse games on sd and usb. The options button is inactive but you can edit hatari.cfg. Use another tos.img for better compatibility.
HatariWii-v0.0.4
Source code
VIRTUAL JAGUAR WII
A Jaguar emulator port. The port is very limited : it's slow, sound is bad and causes freeze. Sound is disabled by default and the frameskip is 1. See vj.cfg file to change settings.
Consider this as a proof of concept, a quick'n dirty port or whatever you call it. That was made just out of curiosity. Its's based on 1.0.7 with some tricks from HCF(xbox port) and my shit. Don't expect miracle now and in the future(unless a pretty good coder optimize it), I don't think it can run at a descent speed with sound someday. Only some 2d games(Rayman for ex.) are almost playable without sound and frameskip 1.
virtual_jaguar_wii-v0.1
Source code
CREDITS
Too many to mention, that'll take a page to name all the original authors and contributors but Big Thanks to all of them. Thanks to Devkit/libogc/SDL-wii dreamteam as always. L. and mother of course.
That's all. I wanted to get rid of these little projects(before my graphic card burns) and I hope you'll enjoy them even with a lot of flaws.