Quake2DS Prerelease 1
Oh yes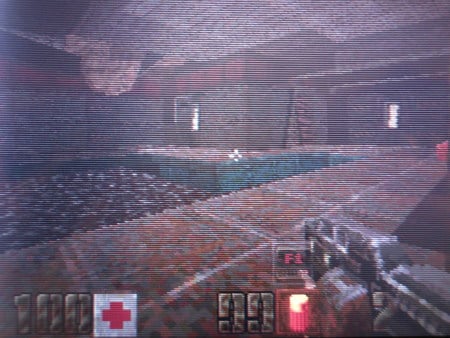 Simon Hall has released his port of the infamous Quake II for the DS. To use this, you're going to need either the full or shareware version (found
here
) of Quake II, and a slot-2 flashcart that can be used as RAM (see compatibility list below, Quake2DS
will not
run without slot-2 RAM).
Depending on the slot-2 cart you have, theres a possibility it can be overclocked. This can yield up to a 40% performance increase in game. Download memtestARM below to see if you're able to do this.
[title:Installation Instructions] 1. You need Quake II's data files. If you own a copy, that's cool - you'll have full access to the game. If not, then you can download the shareware version of Quake II from id's site. This will only allow you to play the levels from the first episode. If you want to play the full game, buy a copy - don't ask me (or others) where you can get these files.
-- In the root of your flash card, make a directory named baseq2
-- If you're using the shareware version, copy the pak from that archive into the baseq2 directory that you just created
-- If you're using a commerical version, copy all the pak files into that directory
2. You need a config file to tell the game how buttons are set up, etc. I know that my config file works, so download that from the link above and save it into the baseq2 directory.
3. Visit Chishm's DLDI page (above) and download the DLDI driver file which corresponds to your NDS booting method.
4. Download the Quake2DS binary package above, and extract the NDS file into the root of your flash card
5. You now need to DLDI patch that program so that it will be able to access the files on your card
6. Put the card in your booting hardware and turn on your DS!
[title:Supported Carts for RAM]# 'Proper' SuperCards, eg the Lite, SD, MiniSD, and CF. The SuperCard Rumble and SuperCard One are not compatible.
# 'Perfect' M3s, eg the Lite Perfect, the Mini SD Perfect, and the SD Perfect. The Mini SD Pro, SD Pro, and Lite Pro are not compatible.
# EZ-Flash cards which have a slot-2 component and can play GBA games over 32MBit, eg EZ 3-in-1, EZ 4, EZ 5
# G6 Flash

Download Quake2DS

Download memtestARM

Source