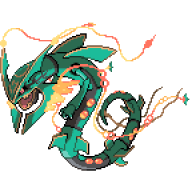 Well-Known Member
OP
Member
Joined

Jan 11, 2010
Messages

170
Trophies

0
XP
Country
My old topic is over two years old and if I posted more patches there, then the topic title would have been misleading. ANYWAYS,
These patches are for Pokémon Ruby and Sapphire. Here is what the patch does:
*Applies gbata's RTC patch
*Adds a clock to every Pokémon Center
*You can reset the clock at any Pokémon Center
*You can view the time at any Pokémon Center
*The font has been changed to the one used in Pokémon Emerald
*The size of textboxes has been altered to the size they are in Pokémon Emerald, to accommodate the new Emerald font (however, Ruby/Sapphire colors are still used)
Here are the patches:
Pokémon Ruby Clock & Font Patch
Pokémon Sapphire Clock & Font Patch
Everything was done by me.
Q&A:
Q: Why is the Sapphire patch 14kb, but the Ruby patch is 11kb?
A: This is because I made the Ruby patch first. When it came time to do the Sapphire patch, I didn't want to manually edit the tileset data to add the clock like I did with Ruby, so I just copied the Ruby patch's tileset data and inserted it into free space in the Sapphire rom. Both patches function exactly the same, so it really doesn't matter.