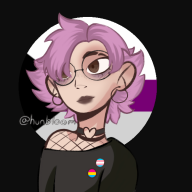 Just your friendly neighborhood Transbian.
OP
Former Staff
Joined

Aug 29, 2008
Messages

6,258
Trophies

2
Age

38
Location
Website
XP
Country
I saw this game on the PAX East stream, but they never made mention of the name of the game. What is it?
Edit: as to how the game is played, you have 4 players, 2 black and 2 white. Teammates sitting across from eachother. Each person flicks a piece to try to get it as close to the toadhole (20 points) or directly inside it. The toadhole is cut so exactly one piece may fit inside. There are pins around the 15 point ring. If on a clear board (no pieces of the opposing color on board) you must shoot for inside the 15 point ring. If you miss, the piece is taken off the board. If the board is not clear, you must "Strike" (attempt to knock off the board) an opponent piece. If you miss, your piece is taken off the board. If you strike one of your team's pieces, both pieces are taken off the board. Each person plays in a clockwise manner until all pieces have been played. At this point, the points are tallied by how many pieces of one team's color are on the board, and at what values. (Ex. If three white pieces are on the board, one on the 15, and two on the 5, white would have 25 points) Whichever team has the most points at the end of a match gets a match point. Whichever team reaches 5 (or 10) match points first wins.