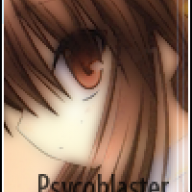 Joined

Jan 26, 2008
Messages

2,131
Trophies

0
Age

32
Location
Website
XP
Country
well, overall, it wasn't too bad. The graphics were nice, doesn't have the wierd american dub, and it wasn't a very easy game either.
Well here are some thoughts.
Sound: 8/10 Sounds were OK, with lots of sound effects. The background music lacked a lot, which was something that brought down some quality.
Graphics: 7/10 Very 3D, and was a game that i thought brought
DS
to it's maximum. The only problem is that it lags too much, and the frames were not very smooth. I also thought the bottom screen graphics could have been better, too.
Gameplay: 6/10 I liked the part where you can hit people in the town

But was very disappointed in many parts.
-Controls: it required many changes. Holding a key to run, pressing R while holding a key to walk... could've changed.
-The vertical length of the maps were very short, feeling more like a side scroller than a full scrolling action game.
-Lack of skills- The whole game is beatable just by rapidly pressing X and Y. Many stuff like bombs weren't even needed most of the time, and the way to use bombs were just hard as well.
-Loadings were too long!!!
Overall- 7/10
Many parts of the game could've changed, especially the controls.
I understand about the lagging and the frame movement, because of the high graphics, but for a
DS
game, i just thought the backgrond graphics didn't have to be much detailed.
The most disappointing part of the game was that the gore rate was very low... like all
DS
games.
The minigames weren't necassary, and many stuff should've been similar to the other games. Just like how the KH 358/2 team is trying to make the DS kingdom hearts as similar as possible with other KH games, other companies should get the game feel similar to the games of other consoles. Even though the DS graphics sucks, the blood could at least be shown more, like the new Ninja Gaiden (not the DS version, i forgot which console T^T)