R4i gold 3DS flashcard test
Two days ago, Rydian released the news that he received the R4i gold 3ds sample and will release a full review later. Related news in this Gba is here :
http://gbatemp.net/t289660-r4i-gold-hands-on-impression
And now i am here to send you a simple mini guide of this card in advance. i am not a review expert, so this post is just to help you know this card roughly.If you want to know more details about it, wait until Rydian's professional review...

i am looking forward to his review too.
R4i gold 3DS Background and Conclusion
In the beginning,let's talk sth about R4ids.cn team and its two items ----R4i gold & R4i gold 3DS.
These two cards cards are released by R4ids.cn team. Their official site is www.r4ids.cn. They are running Wood R4 kernel or R4i official firmware.Until now (April 23th 2011),the latest wood kernel is Wood R4 kernel V1.28 and official kernel is R4i V1.51b,i use the wood R4 kernel firmware in this test.After you get this flashcard, you can download and use either of them.Personally,i suggest you use the Wood r4 kernel,because it updates more frequently and gives you better game experience.you can always find the latest Wood R4 kernel in the official site or our gba forum, so just download and use it when the new version comes out,very easy.
Package difference
Front Package
Back Package
In my opinion , there are two main differences between R4i gold and R4i gold 3ds. First is the appearance, as you can see in the pic, there is "3DS"label in the 3DS package, it shows that it is a 3DS flashcard. second, they are available for different DS consoles, R4i gold is only working for DS/DSi, and also you can not update the firmware to support 3DS.And R4i gold 3ds is working on both DS/DSi and 3DS with Wood R4 kernel.
Conclusion about the R4i item
If you have a DS/DSi.you can use either R4i gold or R4i gold 3ds.both of them are working on your console.
If you have a 3DS, you can only use the R4i gold 3DS. you can't update your R4i gold to R4i gold 3DS.
If you have both DS and 3DS, wow,you are wealthy! And yes, just choose the R4i gold 3DS,it is available for both of them!
What's more,another info has been released that R4ide.cn team has stopped manufacturing and selling R4i gold,they only sell R4i gold 3ds from now on because R4i gold 3DS is working for both 3DS and DS console.there are some retailers still have some R4i gold items in stock, so maybe you still can buy them, when it is sold out, there will be only R4i gold 3ds then.
What i have
1.Nintendo 3DS console
2. R4i gold 3DS package
3. 2G micro SD card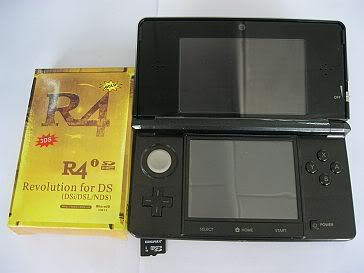 R4i gold 3DS
Package Contents
1.R4i Gold 3DS card
2.USB MicroSD card reader
3.Protect box
R4i Gold 3DS card Package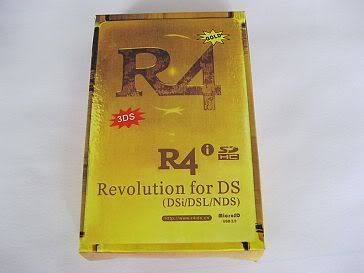 Open the box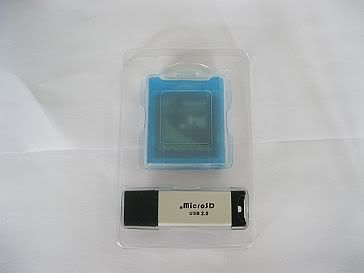 Three things in the box
Open the plastic box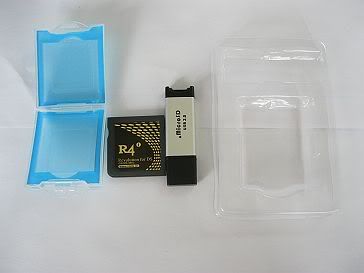 things will need to run a download game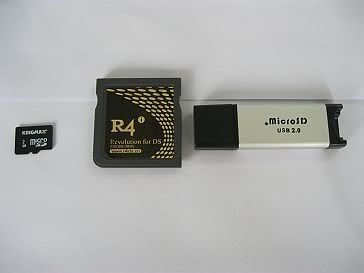 Front
Back
How to download the kernel for R4i gold 3DS
Here is guide on how to download the wood R4i kernel for R4i gold 3ds
Step1 Put your sd card into the card reader and connect the card reader with the computer.
Step2 login the R4ids.cn official site, and go to the download page , here is the link for you:
R4ids download page
Step3 Find the latest Wood kernel and download. After finish the download , you will get the wood R4 kernel V1.28.rar file
Step4 Extract the file, and you will the Wood kernel folder. there are five files in the folder.




Step5 Copy the five files to your sd card
Step6 Prepare a game to test : i use the pokemon.
Copy the game file to the sd card too.
Step7 So there will be six files in the root of your SD card. Then you have done everything and get ready to play the game.

Step8 Unplug the card reader from pc and put the sd card to r4i gold 3ds flashcard
Step9 Plug the r4i gold 3DS to the 3DS console and power on the 3DS.
here is the pic without any flashcard
After plug the R4i gold
3ds flashcard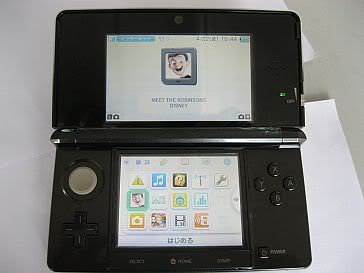 Click and login the Wood R4 UI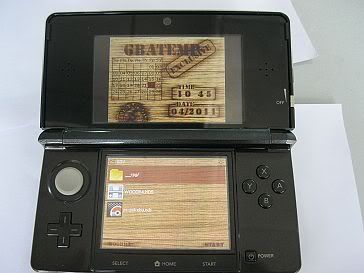 Click the game name (pokemon)
Start the game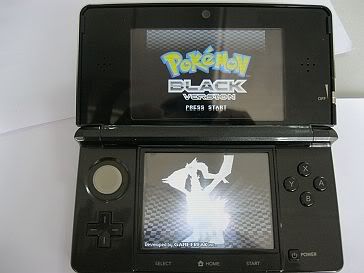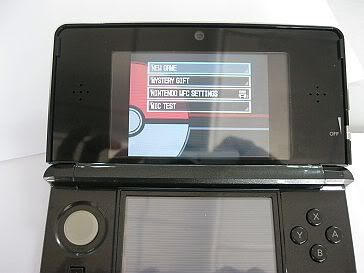 Ok, here is my simple test, everything is great then......