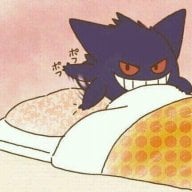 Well-Known Member
OP
Member
I was theming the system menu and have sort of soft bricked. CBHC works fine, so I can get in to the HBL... but the system menu won't load. It gets stuck on the splash screen playing the boot sound.
However, if I launch SDCafiine with a theme in the folder, the menu runs fine.
To clarify what stupid thing I did to get here... I changed from the dark orange theme from
this thread
to another, but some buttons remained orange. After trying a few other themes with similar results, I foolishly tried booting the WiiU after deleting the Acs2.pack and Set2.pack files in the theme folder, which seemed to do nothing. Undeterred, I then tried booting without a Men2.pack, which caused it to fail to load. I have since put all the files back exactly as they were, even checked that they're the same, but the menu won't load!
Any help would be greatly appreciated, I put way too much time in to this WiiU