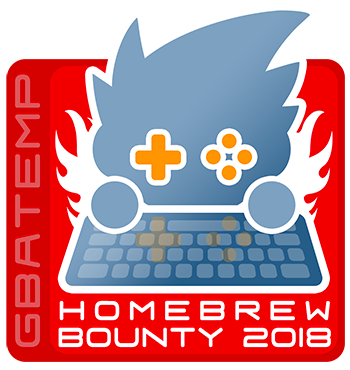 GBATEMP PRESENTS...
THE 2018 SWITCH HOMEBREW BOUNTY
​
It is with great pleasure that I announce the official beginning of GBAtemp's first Switch Homebrew Bounty! If you aren't familiar with the concept, the Homebrew Bounty is a competition that rewards the best homebrew for a given platform. The idea is twofold: we want to reward authors for their hard work, but also encourage the creation of new projects and developments, which in turns benefits everyone!

Our previous bounties date from several years back, take a look at our first ever homebrew bounty back in 2008, and our second one from 2011 if you want to know what it looks like. This time, we're aiming even higher. Here's all you need to know about this year's bounty.
Four categories, four competitions
We will actually be running four different competitions over the next few months, one for each category of homebrew. The idea is to reward everyone, not just game developers but also those who work behind the scene to create the tools everyone needs.
CATEGORY 1: tools and utilities (

WINNERS ANNOUNCED! CLICK HERE

)
This category is meant to reward authors of tools/utilities, as in, programs that run on a computer (not
on
the Switch itself) and serve a specific purpose such as patching tools, content extractors, development libraries, and much more. If you aren't sure whether your project fits in this category, look at the other categories below, and if in doubt, simply ask a moderator.

CATEGORY 2: Switch applications (

WINNERS ANNOUNCED! CLICK HERE

)
Projects in this category are applications that run
on
the Switch itself. A few examples: video or media players, browsers, custom firmwares, homebrew loaders, etc... This category is not to be confused with category 1 which is for computer-based tools.
CATEGORY 3: emulators (

WINNERS ANNOUNCED! CLICK HERE

)
The third category will reward emulators. This means
emulators that run on the Switch
, or who knows, perhaps the other way around too: Switch emulators that run on computers. If your project is an emulator and it's related to the Switch then it belongs in this category anyway.
CATEGORY 4: games
The last category: homebrew games. We accept new games as well as ports of existing games, of course.
Regardless of the category, if you wish to enter, you will be required to present either a new project, or a significant update to an existing project. As it is difficult to define the exact meaning of 'significant update', simply keep in mind that judges will look at your project individually and decide whether your update is significant enough to warrant their vote.
A few other noteworthy points:
In order to enter, you will be required to upload your project to the GBAtemp Download Center to allow other users to download your files easily. However feel free to also host your project on other platforms such as Github and similar.
Our Patrons (members who support us on Patreon) will have a voting right, the combined patron votes will have a 50% weight on the outcome, the other 50% will come from internal staff votes.
Although the competition hasn't officially started yet as we're only beginning Phase 1 (read below for more details), you can already begin working on your new project / project update to submit to the Homebrew Bounty. However you must publish it during the appropriate window in order to be eligible to win a prize.
Winning projects will receive cash prizes as well as medals (image files) that they can include in their project if they like.
Phase 1: sponsors and donations
Thanks to our sponsors, we are going to be able to distribute as much as
$8000
, yes you read right, eight thousand US dollars!
The initial dispatch will be $2000 per category, divided into different sums for the top 5 highest voted projects. The detailed breakdown of prizes will be given in each respective announcement.
Half of this sum is generously donated by yours truly,
GBAtemp
!
Thanks to ad revenue and to our Patreon backers, GBAtemp is the biggest donator.
The other half comes from our generous sponsors as listed below.
MOD3DSCARD.COM
Buy flashcard to mod 3DS and Switch | Team Xecuter SX | Sky3ds+ | Stargate 3DS | R4 3DS - mod3dscard
AXIOGAME.COM
Axiogame | Backup Units, Modchips and more
And let's not forget
Team Xecuter
who made a very generous donation too.
But the bounty isn't only about sponsor companies: you, beloved members of our community (and even guests) can contribute too! If you want to make a donation, simply click the button below to send a payment to our Paypal. Needless to say, 100% of the amount we receive will be transfered to the authors of winning projects.
Upon submitting your donation, you can indicate whether you want the donation to go to a particular category, or all of them.
Also please note that our Paypal account name is "
FILETRIP
" - this is normal.
About a week from now, we will announce the final prize money we'll be able to distribute, although people will still be able to continue donating.
Then, the first competition (category:
tools and utilities
) will officially begin. You will have one month to work on your tool/utility project and submit it.
After which, we will take a moment for the voting process, and announce the winners shortly after.
Then the second competition will begin. And so on.
Reminder: you don't have to wait until competitions officially begin to start working on your project.
Thanks everyone for making GBAtemp such a fantastic community.
Let's get this started!