GBA ExpLoader 0.3
eWin Expansion and EZF4 Deluxe support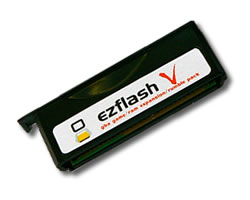 A new version of Rudolph's GBA ExpLoader (formerly known and 3 in 1 Expansion Tool). Support for the eWin Expansion Pack and EZ-Flash 4 Deluxe have been added, along with some bug fixes. Download and engrish below. Nod to Destructobot for the tip.
[title:Changelog]V0.3 2008/2/21 R4/M3S, set to disable the reset time to correct defects.
EEPROM_V111 patch to fix defects.
NOR failure mode FLASH1M_V103 patch fixes.
"Delux-EZ4 lite" and "EWIN EXPANSION PAK (2in1)" support
PSRAM / SAVE SDRAM mode of data, "GBA_ExpLoader" boot file when SAV
Written specifications to change (from now until then GBA RAM / BIN to boot).

Download

Developer's Blog (Japanese)