FAS1 v1.5
Flashes twice as fast as previous version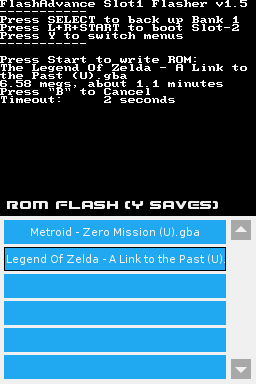 A new version of Smiths/
newbie
's utility for flashing GBA ROMs to the old Flash Advance cartridges from a slot-1 flashcart. Significant update, as flashing speed has been
halved
(down to 9.5s/meg), along with support for GBAFRAME.BMP being added. Download and usage instructions below.
[title:Usage Instructions]1) FAS1flasher.nds can be put wherever you launch homebrew from on your Slot-1 Device.
2) GBA ROMs (with extensions .gba [games] and .bin [Pogoshell] should be placed in a subfolder called "GBA" on your Slot-1 Device.
3) Launch FAS1Flasher.nds and you'll be presented with a menu on the bottom screen showing GBA ROMs found on your Slot-1 Device.
4) Selecting a title in the bottom menu will present you with on-screen information about the file, along with an estimated writing time.
5) Press "Start" to begin flashing the file (currently it flashes it at the first position of the FlashAdvance cartridge (offset 0). Later versions may let you change the starting position to create a multi-rom cartridge. Honestly, you should be using PogoShell for multi-rom compilations anyway.

Download

Project Page