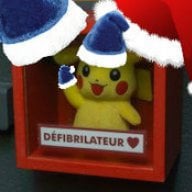 Joined

Jun 8, 2008
Messages

2,444
Trophies

2
XP
Country
Before you start raging at me, let me clarify a few things.
Yes, I have searched the forums regarding this topic
. I have done some googling. I just want to make sure I have gotten all the facts straight. And I didn't want to threadjack or necro any of the existing topics. Only had experience with Slot-1 carts so I am a bit unsure about many things still so please bear with me.
Ok, basically here is a list of
things which are a must in the chosen cart:
Able to run GBA games (obviously)
Pal Park in Pokemon games
Others games such as Megaman/Rockman
This is what I took into consideration:
Preferably relies less on internal battery and more on the memory card (micro/mini/sd)
This is where I kinda doubted my decision to even buy any of them carts. AFAIK ALL of them store the sav file within the internal battery even for the EZ4 and there is no known way to store it in the miniSD and execute it from there a la current Slot-1 carts. Is this right? Thing is, some people claim that the internal battery will last a few years while others state otherwise. Plus it will be difficult to get the replacement battery from where I come from. Having lost my sav file from a clone cart (ie fake game) before, this has been quite a huge factor. What can be done to stop this loss of sav file?
asd
2.
Stores multiple games at a time
.
I assume EZ4 wins here. EZ3in1 only stores one game at a time right?
asd
3.
Hassle-free Pal Park-ing
Another feature which got me thinking a little. Based on a discussion thread linked by another forummer, I can conclude that I require a program called pokepatch, to which I have to run and patch my DS rom and so on. The 3in1 can support Pal Park as it is.
asd
4.
*EITHER fits perfectly in DSLite OR able to be used in GBA
Not a big deal since I have both the DSLite and a GBA SP. Just that I have not seen a DSLite dustcover sized EZ4 which some people claimed existed within the forum here. Seems like the EZ4 lite is not sold in major stores anymore (not even shoptemp) and the ones that do charge over twice the price of the regular one...
Other things to consider:
Additional devices and stuff. Many guides I have seen are written many years ago so I was wondering if things like EZPassII and what not are still required to use it on the DS. I already have Slot-1 DS carts (Acekard 2i and EDGE). My Slot-1 carts SHOULD act as the NoPass right? Funny how I couldn't be bothered about that feature last time.
Yea so that is basically all I can think of at the moment. I really want to hear your opinions. Currently I am in favouring the EZ4 for its multigame storage, and possible usage of miniSD for saves though I am a bit cautious due to the possible need for additional equipment to be able to run it on the DS (at least that was the case years back). Thanks in advance