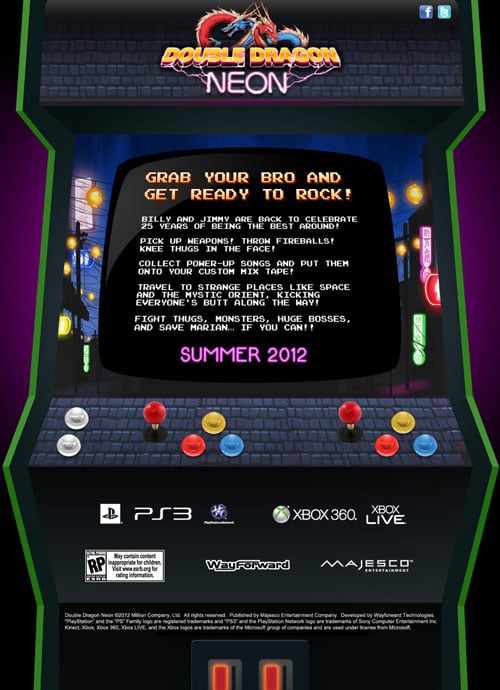 If you haven't heard of Double Dragon, someone will be along shortly to revoke your gamer card. You don't qualilfy.

Today, Majesco Entertainment has announced that Double Dragon: Neon will hit the PlayStation Network and Xbox Live Arcade this summer. Dubbed a "full-scale digital game," it's in development at WayForward (BloodRayne: Betrayal) and it's destined to "put a signature spin on on the father of all brawlers."

In keeping with the over-the-top spirit with the iconic series, fans can expect "bodacious characters, gnarly combat, and a retro aesthetic." Yeah, lots of 80s terms in there; just the way it should be. And remember, this is not a remake; the designers are doing a lot more than giving it a "graphical facelift." Said WayForward director Sean Velasco:

"Double Dragon: Neon is far from a standard retro remake. It's WayForward's love letter to the decade that spawned the franchise - the music, the style, and culture of the 80's pulse through the nucleus of Double Dragon: Neon. But don't think this is a simple graphical facelift; with our innovative 'mix tape' level up system and power-up high-fives, we pushed it to the limit!"

Double Dragon: Neon takes place in a "hyper-saturated omniverse" where they must eventually take down Skullmageddon. If you need some help, feel free to take advantage of the drop-in, drop-out online "Bro-Op." For more info, visit the game's official website.

One last thing- I don't care how it turns out; I'm getting it. It's Double Dragon. It's going on my machine.
Source 1
,
Source 2
----------
Damn, no PC version. Their 2D BloodRayne game was pretty damn good too.