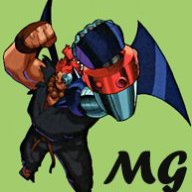 Kill 'em all...
OP
Member
Joined

Nov 20, 2008
Messages

679
Trophies

0
Age

51
Location
XP
Country
Hope this isn't duplicated elsewhere..............
I've been trying to use the Action Replay cheats for Chrono Trigger DS on my R4, I was using a US ROM patched with DSATM using the codes found elsewhere on GBAtemp. Unfortunately because the patched ROMs are trimmed, the R4 Action Replay function won't match the ROM to the cheats in the CodeJunkies database. I tried using a clean (unpatched ROM) and it worked, but when I used the cheated .sav file I created on a patched ROM the game froze as soon as I tried to leave the area I was on. For some reason using DSATM to create a trained ROM with all the cheats in it wouldn't work for me either. Anyhow, I didn't give up, and for those who have both slot 1 and slot 2 devices here's my solution:
You need:
1 clean (unpatched) Chrono Trigger DS ROM (US or JAP, I'm pretty sure they are identical)
1 patched (Anti Piracy FIX) Chrono Trigger DS ROM
A slot 1 flash device (I used R4 SDHC) (must have Action Replay option)
A slot 2 flash device (I used G6 Flash 4G)
First put the clean ROM on the slot 1 device and ensure you have the latest cheat codes in the Action Replay CHEAT.DAT file.
Next put the patched ROM on your slot 2 card.
Boot your DS with the slot 1 device and activate the cheats you want, (I recommend loading up on strength capsules etc. and maxing out Crono's HP/MP). Then save your game before the first portal where the clean rom locks up.
Copy the .sav (or whatever your card creates) onto your PC, make sure it has exactly the same file name as the patched ROM on your slot 2 device.
Use the savegame converter website:
http://shunyweb.info/convert.php#
to convert the slot 1 save to the right format for your slot 2 device (the G6 uses .0, .1, .2 suffixes).
Copy your new save file(s) to your slot 2 device.
Boot slot 2 device in DS and the save should be there with all your newly created loot.
Hope this helps some people, it worked fine for me, although I actually used my slot 2 G6 save at the "What Lies Beyond" chapter, converted it to .sav, cheated the hell out of it on my R4 and then converted back to G6 format, I would hope it will work with new games as well though.
Note: Interestingly I used a US clean ROM and a JAP patched ROM with no problems whatsoever, leading me to believe that both ROMS are identical and only the EU ROM will be different because of more localization options.