It has been one week since the
Tempmas Week 2
Christmas Carol competition ended and we the staff are having a hard time designating a unique winner! There are just so many amazing entries that we decided to let the community go ahead and vote.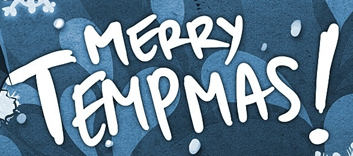 Since there were a lot of entries the public poll will only contain the 10 entries that received the most votes from staff. Some of them sound like they are made by industry professionals, we had to run background checks on the authors to ensure the songs were really from them (and turns out all of them are 100% legit and authentic, recorded just for us!). The other 13 songs are nice too and you can tell a lot of effort was put into the competition; they can be found in the list at the bottom of the post - but you will not be able to vote for them.
TOP 10 ENTRIES SELECTED BY STAFF (ALPHABETICAL ORDER)
HOW DO I VOTE?
To make sure there will be no fraud/cheating, voting is only open to confirmed members; the thread has been created in the trading section (which only confirmed members can access). You may vote for several entries - we know it can be hard to choose. In the end, the entry that will have received the most votes will be the winner.
Click here to access the poll thread and proceed to voting
.
WHAT DO THEY WIN?
The author of entry that gets the most votes will receive a brand new
New Nintendo 3DS
+ the game of their choice. And to reward other competitors for their amazing entries, we are throwing in extra prizes: the 4 runner-ups will each receive a $50 cash reward (via Paypal)! So make sure you vote carefully.
LISTEN TO THE OTHER ENTRIES
The poll only lists the top 10 entries as selected by staff, but let's not forget the other 13 entries that didn't make it! They are listed below, click on the
listen
link next to each nickname to listen and see for yourself, tell us whether you think the staff made a mistake in their selection...