We have managed to achieve some pretty incredible things in the last month - we have successfully
rebuilt the site from the ground-up
on the latest forum software and have moved to an
ultra powerful server
to make the site
faster and more responsive than ever
! Behind the scenes, we are always looking for ways to improve our user experience and bring fresh & exciting content and features to the temp.
However, in order to make these things happen and to be able to keep providing you with fresh editorial content and to conserve our freedom as an independent community, free from the constraints of a parent media conglomerate;
we need your help
.
Previously we launched a campaign on Patreon to help support us but despite a positive response, it never really took off and we found being shackled behind Patreon's restrictions and terms too limiting.
That's why we are today launching our
built-in user upgrades system!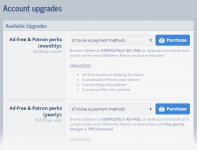 ​
Choose to support us directly on GBAtemp through our payment partners
PayPal
and
Stripe
and choose payment options such as
Apple Pay, Google Pay, VISA
etc. You can even choose to pay with your
GBAtemp XP
at a conversion rate of 1000XP = $1USD
(more details to follow).
By supporting us you unlock the following exclusive features:
Complete ad-free access on desktop and mobile ($5pcm tier and up)
Early access to new site features
Early access to new site styles (tempStyle 3.2 NFO perhaps.....?)
Merchandise give-aways
A customisable banner that adorns your posts and profile
A custom palette and other customisable options for your blog and user profile
A listing on the Patron member page
Access to the patron exclusive chat room
That feeling that your supporting one of the longest running independent communities on the web - NEARLY 20 YEARS STRONG!
Please note that if you were previously a Patron - your upgrade is now deactivated as your last payment on Patreon was made over a month ago. Please consider resubscribing - your existing perk settings will be kept intact.​
Please visit our
Account Upgrades
page below for further information or feel free to ask any questions below.
Whether you choose to contribute or not, thank you all for your continued support and being members of the GBAtemp community!
Account Upgrades