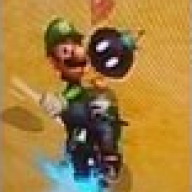 Well-Known Member
OP
Newcomer
Joined

Aug 25, 2007
Messages

55
Trophies

0
Age

32
Website
XP
Country
Greetings to GBAtemp, I'm a long-time lurker, not first time poster, but it's been a long time since I last made any contributions to the forums. I'm known as MrBean35000vr on YouTube and a few other places, and for the past while, me and my younger brother known as Chadderz have been working on a rather special mod for Super Mario Galaxy 2, one that has started to take shape already...
[yt]Pqef07U0LNs[/yt] [yt]IGHh80fpDRA[/yt]​
We are attempting to implement a split-screen multiplayer mode into Super Mario Galaxy 2, where one player plays as Mario, and the other Luigi, and both players will take on the levels together. As can be seen in the video, several of the basic requirements are already functional; we have both Mario and Luigi in the level, they're running on seperate controllers, the screen is split in half with two renderings of the game world, and both players are capable of interacting with enemies and objects inside of the world.
There's still plenty of work to be done before this mod is ready, however. There's issues to resolve such as the interface being partially off-screen, the shadow matrix which enjoys getting well and truly distorted by the resized screens, character voices, who coins affect, the two pointer cursors, making all characters stop in cutscenes... etc. And I don't even want to think about Fluzzard right now...
At the moment, it seems that when complete, it will be distributed as a download that can be run using Riivolution, or by modifying an ISO. This may be subject to change if another method of easily running it suddenly leaps forth, however for the time being... Riivolution is just too good for this kind of thing, seriously.
Those of you who have been around GBAtemp for a long time may remember that the game mod known as Super Mario Galaxy 2.5 was going to have split-screen multiplayer, as built by MrBean35000vr and Chadderz... this is indeed the split-screen multiplayer that we promised back then. Sorry for the wait! Hopefully it will not take too long to complete from here. Astounding progress was made over the past couple of weeks, and with any luck things will continue on their current path.
I hope you all like what you see, and I hope to bring more good news about this mod very soon