SpaceBubble Wii
v0.60
SpaceBubble is based on the classic board game Bubble Breaker. Destroy multiple bubbles of the same colour to get a higher score.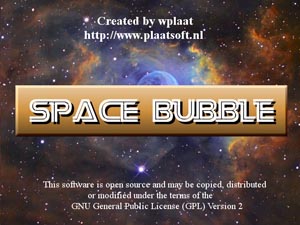 Changelog said:

05/02/2009 Version 0.60
- Added two, three and four multi player mode.
- Add level seven with more bonus points to earn.
- Improve score calculation on cleared level screen.
- If player is 10 seconds idle give a random bubble select hint.
- From level five "Super Shift Bubble Move" option is activated.
- Sound settings are stored in configuration file.
- Play random music track during game.
- Rename "General Setting" menu button to "User Initials".
- Bugfix: Clock color is now showed always right.
- Build game with libogc 1.7.1 and devkitPPC r16 compiler.

Download

More Info

Discuss