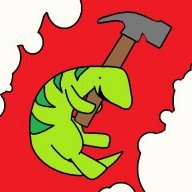 Well-Known Member
OP
Member
Joined

Jul 15, 2007
Messages

132
Trophies

0
Location
XP
Country
SO I was just on my computer (dualbooted xp and ubuntu, with xp as my in-case-anything-happens-to-ubuntu os) minding my own business, when I go and play a game with my friend.

I return to my computer and find that i cant run any more programs, i can only do stuff with what i've got open (firefox, pidgin).

I restart my computer and see if that helps.

It doesn't.

I get the black screen of death, and I use my pal's laptop to find a fix. I uninstalled compiz, tried loading it again, and the same thing happened. I reinstalled compiz, and rebooted yet again.

The BSOD is gone. HOWEVER, now just my background shows up and nothing loads at all. No menubars, no second desktop, nothing but my cursor and my background.

Does ANYONE have any ideas on how to fix this? I've tried changing graphics cards (to fix BSOD... no avail), going into safe mode, etc.

Before you ask, yes, i can hit Ctrl+alt+F1 to get to the terminal screen. Ubuntu auto-logs me in when it starts.

Any help would be appreciated. Thank you.