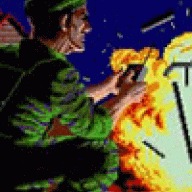 Joined

Jul 31, 2003
Messages

3,146
Trophies

0
Age

48
Location
Website
XP
Country
When I started playing this I thought, meh, another Fighting game. Okay it's nice they threw in all those nintendo characters but still, what can it add to the gaming world.
Well, I've played Brawl for several hours now and first I thought this game was a brilliant fighting game with outstanding graphics. So far so good.
But then I noticed how many extras it holds, with all the nice little features, the adventure mode (that sometimes is more of a platformer than a fighting game) and the challenges.
But along the way I also discovered all the Nintendo memorabilia, with all the stickers and trophies. You can go to a trophy gallery and watch all these items, rotate them and (in the coming usa/eu version) get background info on every figure or item.
Now that last bit I think is really really cool! I mean this game is kinda like a videogame version of a
Nintendo museum
. In fact I dare to say this:
Super Smash Brothers Brawl = A Nintendo Museum in the shape of a fighting game.
It's really interesting when looking at all the features in this game, you suddenly forget that this is a fighting game and noticing that they really tried cramming in all the Nintendo characters and the worlds they live in and made it into some sort of action-party-museum. I really got very nostalgic feelings when looking through all those 3D trophies of Animal Crossing figures and items from Mario games. And you want to see more and more of them so you have to keep on playing to unlock them.
I think it's very smart of the SSBB team to really focus on the history of Nintendo and put it all into one game.
All in all I actually think the name Super Smash Brothers Brawl isn't even the best title for a game that in fact is much more than a smashing, fighting and brawling game. But I suppose it's all marketing.
I never thought this game would have such a big impact on me. But I really love every aspect of this game. So for the first time in my life I even think I might want to buy this one when it comes out in Europe.