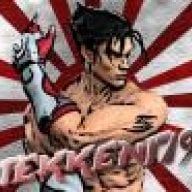 Joined

Apr 30, 2012
Messages

313
Trophies

0
Age

32
Location
XP
Country
Hey I thought it would be a good idea to show off everything you have accumulated for your 3DS since the console's purchase.
Rate The Person above you
Suggest what they are missing out on
====================================================================================================
Here is what I have so far.
Console:
Aqua Blue Nintendo 3DS - Latest firmware (EU)
Games:
Super Street Fighter IV
The Legend of Zleda: ocarina of Time 3D
Super Mario 3D Land
Mario Kart 7
Sonic Generations
Kid Icarus: Uprising
Mario & Sonic at the London 2012 Olympic Games
Software(apps & games):
Colors! 3d
Mighty Switch Force
Pullblox
Freakyforms: Your Creations, Alive!
Zelda: Four Swords
3D classics: Kirby's Adventure
3D classics: Excite Bike
VC: Super Mario Bros.
VC: The Legend of Zelda
VC: Metroid
VC: Super Mario Land
VC: Super Mario Land 2: 6 Golden Coins
VC: Wario Land
Other/Accessories:
Acekard 2i
Mario Character Kit Case
3DS hard case (before i bought the mario costume case).
Also standard free apps: Letterbox, Pokedex 3D, Nintendo Zone, Nintendo Video.
Too many DS games to mention just think Zelda, Mario, Metroid, Pokemon, Professor Layton series. (before i was aware of R4 cards).
What I want:
Tales of the Abyss
Star Fox 64 3D
Tekken Prime: 3D
Mario Tennis Open (have it pre-ordered)
What I'm Looking forward too/Want in the future:
heroes of ruin
Paper Mario 3D
Luigi's Mansion 2
Sonic & All-Stars Racing Transformed
Super Smash Bros project(a few years to go lol)
Animal Crossing 3D
Professor Layton and The Mask of Miracle
New Super Mario Bros. 2
Dragon Ball Z 3DS
Disney: Epic Mickey Power of Illusion
Monster Hunter (a west end release tbh it's wishful thinking)
DS: Pokemon: Black and White 2
E3: Nintendo's E3 - June 5th
I will probably get a DSTwo at some point for the GBA and SNES emulator.
I missed the Ambassadors by about 3 weeks, but I'm glad i got my 3DS with SSIV for £124.99 New
I also got cheated out of 3D Classic: Kid Icarus as i entered and qualified for the free download back in January but I never received my Download code, Nintendo told me to keep an eye on my inbox, never got it, replied again, no reply just got ignored.