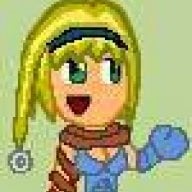 Well-Known Member
OP
Newcomer
Joined

Nov 1, 2015
Messages

47
Trophies

0
XP
Country
Edit2 (04/26/22): New version 1.8 beta, should be playable in PSPs for real now! Download the patch here:
Mega
Edit: Beta 1.6 is out, now running on actual PSPs! Download the patch here:
Mega
Thanks to the help of JamRules once again, and the invaluable help of our new pal Ethanol, not only we fixed the problems we had, but it looks better than ever! Made another fancy vid with the funkiest changes:
Things pending for the next version:
-Opening and ending song subtitles
-Figuring out the terrain info (even though telling if you're on "water" or on "grass" is obvious enough)
-Finishing the missing icons/text in some menus
-Fixing any typos either my partner or you guys catch
We want to make it the best version of the game possible (hence why it's still a beta), so please let us know if you see anything weird!
-----------------------------
Original post:
Almost nailing Queen's Blade's 15th anniversary yesterday (not on purpose, but we'll take it), here's the first release of our Spiral Chaos translation, version 0.9 BETA! We only ask that you don't spread it around too much, for the same reason we're calling it a beta: there's some areas we're not really satisfied with, and we do believe that first impressions count.
With that said, I made a funky PV for a showcase! Thanks to everybody who helped make this possible, too!
Download the patch here:
Mega
You can find XDelta here:
XDelta
, use it to apply the patch above on a brand new japanese iso (please no questions on where to get isos).
It's likely that our version doesn't work on a real PSP, since we expanded the eboot if I recall, and chances are emulator save states may not work, just save as the game intended to be on the safe side.
So what's done?
-Story, freetalks, items/skills descriptions, bios, sparring dialogues, menus: 100%
-Movies: 83% (as in, missing the intro and outro, more because of a lack of inspiration and time than anything else)
-Graphics: 0% (see below)
And what issues are left?
-Graphics:
To try and edit some of the graphic menus and stage titles, we've tried to dump the contents of the graphic.bin, map.bin and battle.bin like we did for the other ones... but I can only see DAT, BNA and MPA files, how could we get those into editable pictures?
-Char limits:
There's been many instances where we've had to squeeze every available character to the limit, like in the case of the items' names or in the shop picture a bit below, and there's one part that might seems a bit odd. See, this might not be the most straight way to say "You broke the enemy's chest gear, which dropped a Venus Breath"... but we literally didn't have one more character to spare here.
-Weird fonts:
The variable font works fine throughout the game, but there's some places where it changes, like in the bios, which does look squished together, or in the saves, where it's full-width and in most cases you won't be able to read the previous stage you fought
-Various centering problems:
Normally the text centers just fine, but there's some places (like in the upper part of the screen for locations, or in certain places like shops) where it just doesn't, so it looks kind of weird. No clue how to fix that
So if you can help with any of these issues, or you see any errors or there's something that sounds weird, please do let us know, we want to make it the best we can! You can either reach us here, or through our QB discord (see my sig)