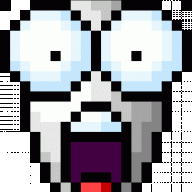 Active Member
OP
Newcomer
Joined

Nov 10, 2009
Messages

38
Trophies

0
XP
Country
I have a soft modded Wii (see sig for details) region free is enabled in PriiLoader.

I seek help to run an Original PAL GameCube Disc (Donkey Konga) on my my US NTSC Wii. At present the game just launches to a black Screen...my TV displays the resolution it is attempting to display... as the game starts to load it briefly shows 570i then quickly changes to 480P and then nothing the Wii hangs with a Black Screen, necessitating a Hard Reset to recover.

I have tried launching from the Disc Channel ...USB Loader GX and NeoGamma Rev 9 (37 Beta) with various options to no avail. I have to admit it was just trial and error on the NeoGamma settings as I have no Idea what values I should be setting.

I have performed some searching and found this which may have relevance to my problem 'WiiPower' posting.

#3174624 "The used cIOS, some cIOS cause issues for gamecube games, cIOS37rev19 and cIOS56rev20 are known to be good for gamecube games"

I suspect that I may need to modify either the currently existing cIOS's I have installed or add a cMIOS.

Any assitance would be greatly appreciated.