Joined

Jul 14, 2007
Messages

5,066
Trophies

1
Age

31
Location
XP
Country
This is just my ramblings and my thoughts about what I've seen and read so none of this is true, pure speculations on my part.
Well, most of you know that they are creating a new Pokemon movie in Japan that's due in July titled
Pocket Monsters The Movie: Arceus - To the Conquering of Space-Time
. Of course, it is to debut the "Ultimate Ledgendary Pokemon" Arceus, the debut of Heatran, and the return of Dialga, Palkia, and Giratina. Of course, that hints nothing to my ramblings but this next poster does.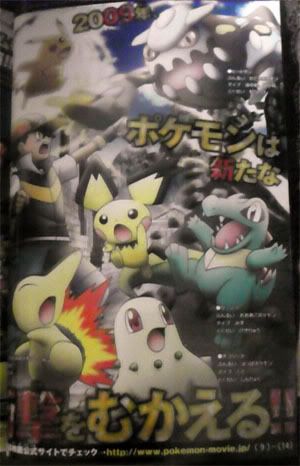 In the poster, you can of course, see the confirmation of Heatran. But what surprises me the most is that Pichu, Cyndaquil, Totodile, and Chikorita are in the movie which gives me the thought "Why are these Pokemon, all from the Johto region, appearing in this movie?" Now if some of you watched the previous movie, the one with Shaymin, think back. Giratina and Shaymin debut in it, Giratina getting its own game, Pocket Monsters Platinum and Shaymin getting Sky Form with it being given out at a Nintendo event. On top of that, Arceus and Heatran were confirmed to be given out to coincide with the movie in Japan, so I don't think they would make another game based on this.
So again, I ask myself "Why are these Pokemon, all from the Johto region, appearing in this movie?" They have little to no importance, especially since you can easily find/trade these Pokemon with a friend or over Wi-Fi. This is just what I think, but I think this is foreshadowing a remake of Gold/Silver/Crystal. This may be just blasphemy on my part but this is what I believe but I would love to be proved wrong. It's just what I think and I would love to hear your thoughts on this matter.