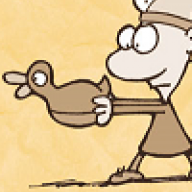 Joined

Oct 27, 2002
Messages

5,923
Trophies

0
Age

34
Location
Website
XP
Country
I'm not even going to try to make this neat or organized, I just need to rant and say shit as it comes off my mind, so I'm just throwing it down here.

I'd never think that money would ruin us this badly. My entire life we've had money. For the majority of my life I've been spoiled rotten. We've always had it. A new game came out, I'd get it. My brother wanted to go to a sports event, he got his ticket and some for his friends too. Ever since my massive asthma attack when I was eight years old, my folks always protected me and made sure I never really had to do anything. Fast forward to 2007, where my dad died in September.

From that point on everything changed. Almost all of our income ceased. At this time, the people living here were myself, my mom, my brother, and our friend. No one in his family wants him so he was left with us. Mom constantly has her pity feelings going on so he ended up staying with us. We were living at a condo owned by my dad's best friend who promised to help us out with dad gone. He ended up being full of shit, as I've posted about here before.

After the "friend" ended up being a gigantic douche to us, we ended up needing to move out. Using help from a family friend, he said we could live in his old (OLD) home off one of the state roads. So we moved there in April. We couldn't stay there for long. Allergies were flaring up there, the toilets kept breaking, there was so much wrong with this house. This is the point where our money income was getting at a serious loss. The only one with a job was mom. But it cost so much in gas to get her there every day, it was almost not worth it. During our short time there, we all started looking for jobs. My brother and friend managed to get one - each within walking distance. Here was where I realized I was going to struggle to find one. Mostly because of my past laziness, it's gotten to the point where no one has attempted to hire me. 19 years old, never held a job before, no car or license to get around. I remember applying at every place I could, even a gas station and the nearby Publix but no go from either. The money the friend got from his work was few because he only worked weekends but it helped us at time. He was the main reason mom was able to get to work. My brother.... He always spent his checks on himself and his bitch girlfriend. Not surprising but he could of helped out more. He's a whole other story that I don't feel like getting into.

We had to get out of that place asap so in September we moved to where we are now, this two bedroom apartment with four people in it. And this is where everything's going wrong. To put it shortly, the only income there is now is what mom earns from her work. My brother has officially gone into his own little world and insists on not searching for a job. My friend is a pulling a half assed attempt, but he's trying. Me? I'm still failing. There is an entire shopping center across the street that opened a few months after we got there. A Mcdonalds, Super Target, Gamestop, some cloth shops, Petsmart, a bunch of stores in there. No one is hiring or took me. I mean for god's sake even McDonalds turned me down. No one's hiring the 20 year old with no experience. Everyone claims I'm not trying when I am.

We have no car anymore. The car we were given, the registration on it has run out. We can't afford to renew it. Mom's license ran out, can't afford to fix it. Brother's is suspended - can't afford to fix it. So many bills and debts my mom's racked up somehow, can't afford to pay them off. The rent, the electric, we can barely pay those off. Our electric was actually off a few days ago and we only got it back yesterday. Every attempt to make money we can, my mom has pawned off every single game system I have spare for my PS2 (which is only because it wouldn't even net $30) and my PSP (which was pawned before.) I've lost my DS, the Wii, and the 360. Essentially my life was thrown away for a three day temporary solution. All the games I've gotten since such as L4D and Soulstorm and SF4 were all from trading in games I already have or borrowed from people. Hell for god's sake there's actually money I borrowed from someone, just a measley $8, and I have absolutely no fucking way to pay him back now. I feel like a total jackass about that. I can't even afford eight fucking dollars!

Now the whole shit that just happened here, I'm not going into details, but now friend has finally been told he has to leave. I feel like such a heel, I was the one who had to tell him. Me? I've always wanted to leave, but I have nowhere to go. I have no money to support myself, no one is hiring me so no one in their right mind would take me in, I have no car or license to get around... Not to mention if I left my mom would have a breakdown and go into an even more depressed state than she already is.

I have no idea what to do. Mom's insisting that we're going to get kicked out of the apartment here within the next month and if that happens it's over - We have nowhere else to go and we can't afford anywhere else to go. I have no idea what to do, no idea what to think of.

Please, someone slap me into reality. If someone thinks I'm making excuses, call me out on it. Please. I don't want this old bad habit dragging me down...