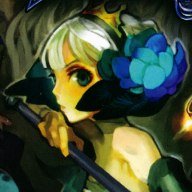 The Dark Souls of GBAtemp
OP
Member
Joined

Feb 13, 2012
Messages

6,420
Trophies

2
Age

32
Location
Website
XP
Country
So, I'm looking for a good RPG to play on either (in preferred order) DS, GBA, SNES, or Genesis. I haven't been into RPGs much (with some notable exceptions) and I'm looking to change that. I've tried quite a few in the past few days, but either I've been trying some really bad ones, or I'm just hard to please, lol. Some information about my tastes...
I HATEHATEHATE random encounters with a passion. Random encounters are enough to make me swear off a game.
I prefer turn-based J-styled RPGs, but I'm open to action RPGs if the battle system is interesting enough, and not boring
RPGs I've played and liked
-Chrono Trigger (favorite RPG of all time)
-Mario and Luigi series
-Paper Mario (sort of)
-Pokemon Red/Blue/Yellow (not that much in retrospect, cuz there's so much grinding)
RPGs I've tried and disliked
-All the older Final Fantasies (VII and under). I've tried I, II, IV, and VII. The random encounters just irritated me (and VII underwhelmed me).
-The World Ends With You (I normally am ok with touch controls, but these were just impossible)
-Front Mission (I can't stand battlefield-style gameplay)
-Suikoden Tierkreis (again, random encounters)
-Phantasy Star 0 (the combat system irritated me to no end)
I'm currently TRYING to get into Sword of Mana, but it's not really working out.
So, any suggestions? I'm willing to try anything (even if it contradicts what I've said above) if you think it's really that good. Thanks in advance!