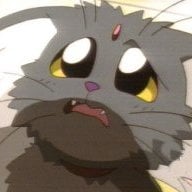 Well-Known Member
OP
Member
Hey guys!
I hope everyone is doing well? I sincerely hope I've blogged in the right place, but yeah. I'm going to blog about something really silly and weird so... I'm sorry

For those of you that have Facebook, perhaps you've seen the following campaign:
'Change your Facebook profile picture to a cartoon character from your childhood and invite your friends to do the same,
for the NSPCC
. Until Monday (December 6th), there should be no human faces on Facebook, but an invasion of memories. This is a campaign to stop violence against children'
Firstly, this campaign was not actually started by the NSPCC! Maybe I'm just a bit cynical but... I find it really insulting? It irritates me that this campaign probably wasn't designed to fight violence against children, but probably someone wanting to perform glorified chain mail. Secondly, people will change their profile picture to make it seem like they're giving support. However, if it came to donating money or volunteering for the charity itself, I doubt they'll be so quick to act. I would like to add that I do think it's good to raise awareness of such issues! Perhaps campaigns like this will inspire some people to actually take physical action. So maybe... it has some use. Essentially, I just feel aggravated that most people think they're doing something special when they're not!
Is that weird? Maybe I'm just thinking too much into it, because I know that's the nature of Facebook! It's just this is the only viral campaign that has actually made me feel disgusted. I'm sorry for having a mostly one sided opinion also