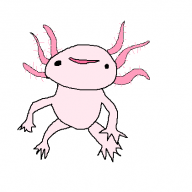 Gbatemp amphibian
OP
Member
Joined

Dec 22, 2016
Messages

491
Trophies

0
XP
Country
My grandma's neighbor is this morbidly obese hoarder, whose garbage reaches even to the street.

He has a chihuahua that only stays alive because everyone in the street loves him/gives him food. We call him Kikin (small)

Today we realized that Kikin has two brothers:

Kikon, who has a broken leg, and Kokin, who is still a puppy. Both are skin and bone.

So today I grabbed a bowl, filled it with dog food, and gave it to the two dogs.)

Im gonna try and give them food every day, so they don't die. I want to gain Kikon's trust so I can fix his bad leg.

So, since giving food/medical attention to a dog counts as being its owner, I guess I have two more dogs now (idk if I should count Kikin, because my grandma and her neighbors take care of him)

P.S: Kikon and Kokin are both wordplay on the word ''Kikin'' Kikon sounds a bit like King Kong, so that's why I named the taller one that, and Kokin was the name of a guy that sold elotes in my street. He was really short, so that's why I named the puppy Kokin.