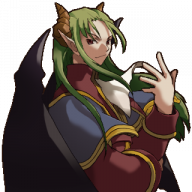 Joined

Oct 25, 2021
Messages

6
Trophies

0
Age

16
Location
Website
XP
Country
Heyo, I finally worked up the courage to introduce myself here. :']
Call me Freya, Moth, or... Well... Satan. (Yes, intimidating and really weird as a name for a person, but you wouldn't believe the euphoria it gives me.)
I'm really into Puyo Puyo and Madou Monogatari, but some other games I like are Hollow Knight, Bug Fables (two bug games in a row because I love insects), and the Magician's Quest/Tongari Boushi series. I'm also, er, WAY into hacking consoles apparently. (Nintendo's probably got me on a watchlist at this point... But ye won't catch me out 'ere sailin' the seven seas, matey.)
I'm also REALLY interested in fan translation projects, so do tell me if you find one I might like to take a look at. Considering how I'm into multiple series that happen to only have a few localized titles (hell, Tongari Boushi has only ONE, and Madou Monogatari's only localized title is from the "reboot" without Arle and the gang), I've sorta been forcing myself to learn Japanese lately. I did have some Japanese knowledge prior to that but I'm far more motivated to study the language now.
Extra random things about me that should probably just go on my profile:
I'm from Indonesia, I'm autistic (and I'm pretty sure I have ADHD too, yay /s), I'm nonbinary, and this is NOT the way I usually type when casually talking to people.
Anyway how are y'all?