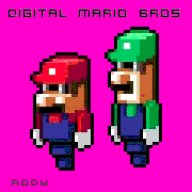 Joined

Mar 14, 2009
Messages

14
Trophies

0
Location
Website
XP
Country
How to DSiWare for SD Card Manual Install

find an option to save the DSiWare game directly to the SD card from the DSi Shop.

Also, as dot_hack_freak mentioned above, from the "System Settings" > "Data Management" section you can copy downloaded games to and from the SD card. However, it does appear to work as expected:

I copied "AQUIA" to the SD card, and deleted it from the system memory (NOTE: Unlike on the Wii, a "Move" option is not present). After doing so, "AQUIA" does not show up in the main menu - even after a re-boot. I copied "AQUIA" back to the internal system memory, and the game is now back in the main menu.

Conclusion:
SD card support in the current DSi firmware (v1.3U) or (v1.3J) does not appear to be as fully implemented as it now is on the Wii.


[EDIT]
I took a few pictures and copied "AQUIA" back over to the SD card slot. I did not see any way to get audio recordings onto the SD card.

The directory structure on the SD card is as follows:

root/DCIM/100NIN02/
- Image files are stored here.
- Naming scheme: HNI_000#.JPG

root/private/ds/app/[random_8-digit_hexidecimal_number]/
- Purpose unknown
- One file contained:
pit.bin - 47 kb

root/private/ds/app/title/
- Purpose unknown
- Two files contained:
[random_8-digit_hexidecimal_number].bin - 11,580 kb
HNB_.lst - 2 kb

They're saved in .bin format on the SD card in
\private\ds\title, along with a single .lst file.

They're named along the lines of 4B4D394A.bin, 4B4D464A.bin etc. up to 484E474A.bin. The .lst file is HNB_.lst.

There's also a \private\ds\app folder, which contains a folder \484E494A, which contains pit.bin. Possibly browser settings?
It hasn't been modified in a few days, so nothing to do with DSiWare.

Also, when copying the browser and Moving Notebook over to the SD card, you get a warning that not all data may be transferable. No explanation given on this one.