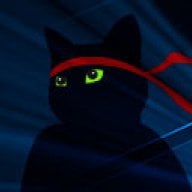 Well-Known Member
OP
Newcomer
Joined

Jan 26, 2016
Messages

76
Trophies

0
XP
Country
(You guys, feel free to post your .tga files you make for others)

I am making this guide due to the fact that it took me a few hours of googling to figure out how to make a custom Haxchi tga file work and haven't seen or found a guide.

DISCLAIMER:
IF STEPS AREN'T FOLLOWED, YOUR HAXCHI WILL APPEAR AS A BOX WITH "???" AND SAY THE FILE IS CORRUPT.
THIS CAN BE EASILY FIXED BY EITHER: REPLACING THE ORIGINAL TGA FILE OR CORRECTLY EDITING THE TGA FILE.
THEN RE-RUN THE HAXCHI INSTALLER AND IT WILL FIX IT BACK
SO IF YOU DON'T HAVE A ALTERNATIVE METHOD OF OPENING THE HOMEBREW MENU, THEN DO THIS AT YOUR OWN RISK.

I AM NOT RESPONSIBLE FOR YOUR MISTAKES

---Don't Repost Anywhere Else Without Permission Please---


How to in GIFs by DonnieV:
(Do everything in GIMP with TgaVerifier, without Paint/HexEditor)​
​
For the Boot Tv and Boot Drc you need to merge all layers to one and

disable

alpha/transparency

For the Icon Tex you need to merge all layers to one and

enable

alpha/transparency

Export as TGA and disable RLE compression.

Place the

TgaVerify script

by

@Zarklord

into your meta folder and run it.

Proof
Or for people who like to do it manually:​

Things you will need:

-First a Photo Editor; Optional:

Note: You can just use Paint.net instead of these editors​
GIMP 2 (freeware similar to Photoshop)(Advanced)​

Photoshop (Not Free)(Advanced)​
Then Download:​
Paint.net (used to save the file as a .tga)(Intermediate)​

HxD hex editor (any other hex editor will work)​
Parameters:​
bootDrcTex.tga : needs to be 854x480, uses 24 bits, uncompressed (Tablet Image)​

bootTvTex.tga : needs to be 1280x720, uses 24 bits, uncompressed (TV Image)​

iconTex.tga : needs to be 128x128, uses 32 bits, uncompressed (App Image)​
Has to be at the end of the Hex for the tga​
00 00 00 00 00 00 00 00 54 52 55 45 56 49 53 49 4F 4E 2D 58 46 49 4C 45 2E 00 00 00 00 00​
How to Edit/Create the tga Files:​
Make a BackUp of the original file if editing​

Open the file you are wanting to edit/create (I used GIMP 2 and iconTex.tga file)​

Edit/Create your iconTex.tga to your liking, minding the parameters required above​

Save your image as iconTex.tga or which ever file you chose​
(If your using paint.net then use the parameters above for each corresponding file or look below.)

Next:​
Open up your newly edited/made iconTex.tga​

Then just save as​

Select .tga​

Check the box for either: 32 or 24 bits (refer back to parameters for that file)​

Check Uncompressed​

Save​
Then:​
Open HxD or your preferred hex editor​

Open your newly formatted iconTex.tga you made with paint.net​

Scroll to the bottom​

Copy 00 00 00 00 00 00 00 00 54 52 55 45 56 49 53 49 4F 4E 2D 58 46 49 4C 45 2E 00 00 00 00 00 to your clipboard​

Select edit tab, and select "paste insert"​

Before​

​

After​

​

Save​

Viola Your done​

Throw the iconTex.tga into Haxchi Folder and run the Haxchi Installer​
My Own Custom iconTex.tga


Made this for my friend so she can just click Haxchi and have it automatically load up Mocha+FSHax. (avoid her messing with the homebrew channel, basically child locked it and she doesn't know the button config to launch it) I wanted a image to represent what i had done. So i threw together this little image.​