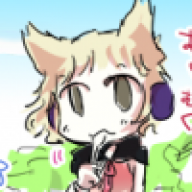 Still a Touhou Fanatic
Member
I'm sorry if this is the wrong place for this, but I severely need help with this thing. Another post of mine from elsewhere, explaining the problem.
QUOTE said:

First post, yes, I know. Anyway, hello there. Here's the problem. I bought a BlackBerry Pearl 8130 yesterday from a friend. It was cheap, and currently doesn't have a contact on it. Problem is, it seems to be in bad shape. Excellent shape on the outside, bad on the inside. Firmware/software wise, anyway.

The problem is this. I can't get it to turn on. With a battery in, it won't do anything. If I plug it in, with the battery still in, about half the time it'll start charging it, but only go a "Phone off, battery charging" screen. White screen, shows battery and a blue lightning bolt. It'll stay on that for about...10 minutes. After that, it restarts, goes to the same screen, only says there's no battery. Still plugged in and everything. I unplug it...it

stays

on that screen(saying there's no battery). So, I went and got a URB connector cord for it.

That does the same thing as with a normal wall charger. So, I tried to use the BlackBerry desktop manager, along with a few other things, to try and reload the software/firmware. I went through the steps to restore it, and at step three, initializing the phone, it won't work. It keeps saying it can't connect to it.

So, I try another way using Loader.exe. Still won't work:

So yeah. I'm at a complete loss at what to do next. Is there a way to force it to connect or something? Or even manually put the files in it myself? I know my computer detects it, as it always installs the drivers onto the computer when I plug it in.

Immediate help would be GREATLY appreciated, as if I can get this working, I plan on using it.

A reply to that, just so people don't have me retry stuff without reason:

QUOTE4. OS install:

http://www.blackberryforums.com/general-81...-os-4-5-0-295

...

1. Download the OS file to the PC then install it to the PC by running (double clicking) the file you downloaded.

2. Go to c:\program files\common files\research in motion\apploader and delete the file named "vendor.xml."

3. Plug in BB and double click on "Loader.exe." It's located in the same place as the above vendor.xml file.
I've recently managed to get the PIN, as well. (31808B49) I'm going nuts trying to figure out how to fix this thing!